"The two about love". Vilnius Book Fair 2013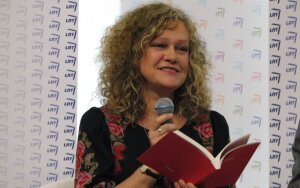 Within the framework of Vilnius Book Fair 2013, joint literary work by Polish poetess Barbara Gruszka – Zych and Lithuanian poet Julius Keleras entitled "The two about love" ("Dviese apie meilę") was presented in Vilnius.
The book "The two about love" includes poems written by Barbara Gruszka – Zych as well as their translations into Lithuanian and poems by Julius Keleras translated into Polish.
"The idea of this book had arisen spontaneously. Five or maybe six years ago, my friend –  poet and translator living in New York – Vyt Bakaitis, after his stay in Vilnius left some books for me which he could not fit in a suitcase; I found "I sleep with you under my skin" ("Miegu su tavimi po oda") by Barbara Gruszka – Zych among them translated by Birutė Jonuškaitė. The minimalism of the text and intense lyric narration had pervaded my soul at once. I read this selection of poems a few years later and I came up with an idea to suggest Barbara writing a small bilingual book which would consist of our love poems written in different countries and at different time" – said Julius Keleras, the joint author of the book to PL DELFI.
"Nowadays, when there are many discussions about the animosities between our nations and the lack of possibility to reach an agreement, it turns out that the literary cooperation works brilliantly. I had met with Julius at some Lithuanian "Poetry Spring" and we had talked only for about a minute and then he sent a proposal to me to 'meet in a book'. I accepted it although I barely knew him and we became really acquainted with each other only at the presentation of the book" – told Gruszka – Zych to PL DELFI.
"Someone said that all good poetry deals with love, but here in this book my aim was to link together works on a recognizable and hugely close subject, no matter whether physical or metaphysical, once experienced or only imagined, real or apparent" – Keleras added.
During the book launch which was broadcasted live by the national television, the poets read some of their poems and translations. After a short review provided by Algis Kaleda, the  actors Jolanta Dapkunaitė and Edward Kiejzik recited the poems of Gruszka – Zych and Keleras.
"When I put my hand under your shirt at a bus stop
it is not a farewell" – Barbara Gruszka – Zych

Source: http://pl.delfi.lt/kultura/kultura/dwoje-o-milosci.d?id=60765373
Tłumaczenie Barbara Rożek w ramach praktyk w Europejskiej Fundacji Praw Człowieka, www.efhr.eu. Translated by Barbara Rożek the framework of a traineeship programme of the European Foundation of Human Rights, www.efhr.eu.