Niemycko does not give first place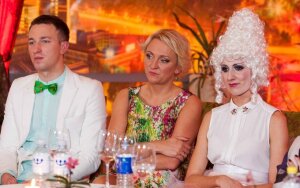 In the next episode of the singing contest "Celebrity duets" ("Žvaigždžių duetai"), the Jonas and Pop Ladies "duet" took the first place. The jury's marks were not very high but they allowed Katarzyna's duet to take the first place.
Edmund Sztengier and Elwina Milkauskaitė performed as guests in the show. A new duet tried their hands in the Eurovision song contest singing "Aš ilgiuosi tavęs" ("I miss you").
Elena Jurgaityte, a well-known participant of the show "Radżi is looking for wife" ("Radži ieško žmonos"), and Tautrimas Rupulevičius-Onsa said goodbye to the project.

Source: http://pl.delfi.lt/rozrywka/niemycko-pierwszego-miejsca-nie-wypuszcza-z-rak.d?id=60761649
Tłumaczenie Patrycja Olszówka w ramach praktyk w Europejskiej Fundacji Praw Człowieka, www.efhr.eu. Translated by Patrycja Olszówka the framework of a traineeship programme of the European Foundation of Human Rights, www.efhr.eu.