Haszczynski: Lithuanians need time to refine new law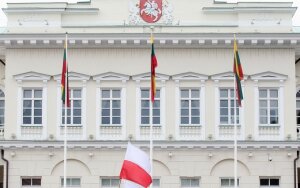 Jerzy Haszczynski, a well-known journalist and columnist, wrote in "Rzeczpospolita" that any haste during a process of normalisation of Polish-Lithuanian relations might harm these relations.
In columnist's opinion, the resumption of Polish-Lithuanian relations is something positive. "Breakthrough – it is a press exaggeration but taking into account that nothing good has happened in Polish-Lithuanian relations for years, it is hard not to be happy," Haszczynski wrote.
"It is important that this should not be a short-lived happiness. When observing the reactions to this Polish-Lithuanian Blitzkrieg – especially in Lithuania – we can conclude a pessimistic scenario for the future. Haste can be a chance but also a danger to the reparation of relations between Warsaw and Vilnius. Why is it a chance, it is quite obvious – both countries, Lithuania more than Poland, share affairs of strategic importance. (…) First and foremost, the battle for energetic independence from Russia and for eastern policy is being carried out," the journalist stressed.
At present, the Polish side is mistrustful of Lithuania because the Lithuanian side has failed to carry out its promises so far. "We know that nothing was done. Even Poles who are not familiar with foreign policy know that despite all the promises made on several occasions by the successive Lithuanian presidents, prime ministers, speakers of the Sejm and ministers, the situation of the Polish minority in Lithuania has not improved," Haszczynski writes.
The columnist sees a great opportunity in EAPL's electoral success. "The political party representing Polish minority, the Electoral Action of Poles in Lithuania, has exceeded the 5% electoral threshold for the very first time and got eight seats out of 144 in the Parliament. EAPL became politically attractive. It entered into the government with the Prime Minister Algirdas Butkevičius' Social Democratic party and two other populistic groups. What is more important: the improvement of the relations with Poland and demands of Polish minority were included in the coalitional agreement," the Polish journalist writes.
"For the sake of the matter, it is advisable to restrain from any signs of impatience. It is certain that bills will not be passed immediately; it would be very harmful and would look as if certain actions had been done under the pressure from Warsaw, which could be used by the opponents of the ruling government in the future. The Lithuanians need time to refine a new law. But at the same time they do not have the whole term to do that, we are talking about months or a year but not about a couple of years," Jerzy Haszczynski stated.

Source: http://pl.delfi.lt/opinie/opinie/haszczynski-litwinom-potrzebny-jest-czas-na-dopracowanie-nowego-prawa.d?id=60695939
Tłumaczenie Patrycja Olszówka w ramach praktyk w Europejskiej Fundacji Praw Człowieka, www.efhr.eu. Translated by Patrycja Olszówka the framework of a traineeship programme of the European Foundation of Human Rights, www.efhr.eu.