Haszczyński: Lithuanians need time to elaborate a new law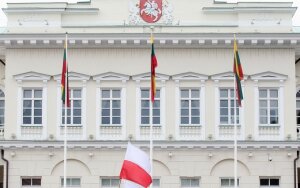 A famous Polish journalist and publicist Jerzy Haszczyński in "Rzeczpospolita" wrote that hurry in  the  normalization of Polish-Lithuanian relations may be harmful for these relations. 
In the publicist's opinion a restart of the Polish-Lithuanian dialogue is something positive. "A breakthrough – it's a journalistic overstatement, but taking into account that for several years nothing positive took place in Polish-Lithuanian relations, it's hard not to be happy" – wrote Haszczyński.
"It's important that this happiness not to be short-lived. It is already possible to read a negative scenario for the future in reactions on this diplomatic Polish-Lithuanian Blitzkrieg. Quickness is both a chance and a threat for mending relations between Warsaw and Vilnius. Why it is a chance – it is quite obvious: both countries, and Lithuania more than Poland, have on their minds matters of strategic importance. And these are matters common for us. (…) First of all, it is fought for energetic independence and the eastern politics – in both cases with Russia in the background" – emphasized the journalist.
Nowadays Poland is distrustful towards Lithuania, because the Lithuanian side did not fulfil its promises. "It is a well-known fact that it didn't happen. Even Poles who are not interested in foreign affairs know that in spite of promises made many times by successive Lithuanian presidents, Prime Ministers, the Parliament speakers and ministers, the situation of Polish minority in Lithuania did not improve" – writes Haszczyński.
The publicist sees a great chance in the electoral success of EAPL. "The party of Polish minority, Electoral Action of Poles in Lithuania, broke 5% threshold for the first time, it gained eight seats in the 141-seat Parliament. And became politically attractive. It entered into the government with Social Democrats of the Prime Minister Algirdas Butkevičius and populists from two parties. What is the most important: the improvement of relations with Poland and postulates of Polish minority found their way to coalition agreement" – writes the Polish journalist.
Impatience has to be repressed for the sake of the matter. It is a well-known fact that bills cannot be put to vote instantly, anyway it would be harmful and it would look like acting under pressure of Warsaw and this would be used by the opponents of the government in the future. Lithuanians need time to elaborate a new law. But, at the same time, it cannot take the whole term-of-office, it's the matter of months or a year, and not of a few years" – stated Jerzy Haszczyński.

Source: http://pl.delfi.lt/opinie/opinie/haszczynski-litwinom-potrzebny-jest-czas-na-dopracowanie-nowego-prawa.d?id=60695939
Tłumaczenie Barbara Szydłowska w ramach praktyk w Europejskiej Fundacji Praw Człowieka, www.efhr.eu. Translated by Barbara Szydłowska the framework of a traineeship programme of the European Foundation of Human Rights, www.efhr.eu.