Valentine's Day: Szaszenko earns, Niemyćko celebrates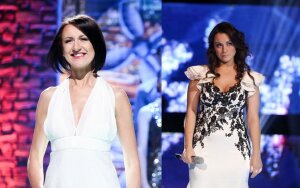 Valentine's Day. For some people it is a holiday, for the other it is a great occasion to earn. Some people claim that it is a commercial holiday which aims is only to make "victim in love" buy different postcards and teddy bears. However, the others would like to buy everything what is in a heart shape.
Two well-known singers, who have Polish roots – Ewelina Saszenko and Katarzyna Niemyćko – are also going to celebrate this holiday differently. The first one always plays concerts on Valentine's day, the other one is planning to spend this evening with her man in the city centre.
"I will sing, as usual. I have a concert in Congress Palace. The name of the project is: "Can you feel the love tonight?". There will be also Jeronimas Milius, Sasha Song, Rosita Čivilyte and Rafailas Karpis. In my opinion Valentine's Day is a commercial holiday so from so many years I just earn on it. However, I have nobody to spend this holiday with" – said Ewelina Saszenko to PL DELFI.
"The surprises for a sweetheart or a romantic evenings should not take place just once in a year when there is a red card in a calendar but more often. However, we can feel some kind of a pressure from the society and we would like to spend this day near our loved one. Since Deividas is involved in a TV project which transmission ends about midnight only then we would have some time to go to the city" – told PL DELFI Katarzyna Niemyćko.
Valentine's Day is an annual holiday of all people in love which takes place on February 14. The name comes from St. Valentine whose liturgical memorial in Catholic Church is celebrated on the same day.
The tradition of this day is to send letters with declaration of love (often rhymed). In the West, especially in Great Britain and United States, people consider St. Valentine to be the patron of all lovers.
Lithuania celebrates Valentine's Day from the end of 20th century, it went from French and English culture and together with the Valentine's Holiday from Bavaria and Tyrol. The necessary component of this day is to give the beautiful, colourful postcards. Red, heard-shaped with Valentines poems or, more and more often, with a declaration of love. There is also a tradition of giving a sweetheart flowers, sweets, teddy bears or items of personal clothing.
Saint Valentine
In a Christian tradition we can find at least three saints named Valentine or Valentinus. One of the legend says about priest who did not listen the Claudius II. He banned marry young men as the bachelors, according to the counsels of Claudius, were better soldiers. For this defiance the priest was sentenced to death. The other story says about a young man who was also sentenced to death because he helped the beset Christian. When he was in a prison he sent to his beloved a postcard with a signature: "From Your Valentine".

Source: http://pl.delfi.lt/kultura/kultura/walentynki-saszenko-zarabia-niemycko-bedzie-swietowac.d?id=60666287#ixzz2LBsCRrHA
Tłumaczenie Diana Omiljaniuk  w ramach praktyk w Europejskiej Fundacji Praw Człowieka, www.efhr.eu. Translated by Diana Omiljaniuk  the framework of a traineeship programme of the European Foundation of Human Rights, www.efhr.eu.