Roaming around the streets of Vilnius: Rotund – a very interesting and inspiring character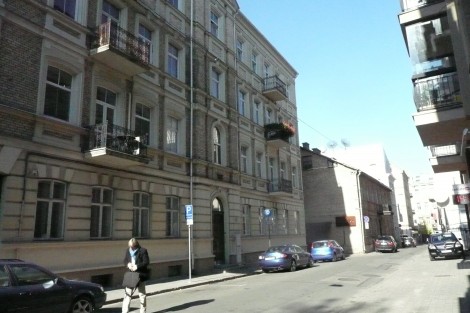 His real name was Augustyn Mielecki, Mieleski. Because of his appearance (from the Latin rotundus – round) he was dubbed Rotund. Throughout the course of history he is known as Rotund.
One of the streets in Vilnius is named after him – A. Rotundo. It is a short (only 150 metres long) street in the city center from Giedymin Avenue to Jakub Jasiński street. It was named after Augustyn Rotund (lit. – Rotundus) in 1940 and reflects his catholic interests. We can find the building of Seimas of the Republic of Lithuania and a Vaga (the oldest publishing company of belles-lettres in Lithuania set up in 1945) bookshop here. We can find here also counseling offices, law offices, art galleries and jewelers. What else? Shops, coffeehouses, hotels. There are old-fashioned townhouses on one side of the street and modern houses on the other. The street is clean and trim.
Augustyn Rotund is a very interesting character. He was a writer, a poet, a historian, a publicist and a lawyer. He was born around 1520 in Wieluń (Wielkopolska) in a bourgeois family. He started his education in Poznań and continued it on the universities of Wittenberg, Padwa, Ferrara. He deepened his knowledge of philosophy, history, law. In 1551 he moved from Kraków to Vilnius. He was the secretary of the offices of Sigismund I the Old and Sigismund Augustus. He was also vogt (the head of a borough) of Vilnius. Rotund was interested in political writing and the history of Lithuania, also known for being a responsible and gifted official. He was on good terms with Mikołajem Radziwiłłem – the voivode of Vilnius.
Rotundus was a Lutheran but he became a passionate catholic. He contributed to Jerzy Radziwiłł and Mikołaj Krzysztof Radziwiłł's convertion to catholicism. Rotund married Walerian Protasewicz, the bishop of Vilnius's sister. He worked with him on organizing a Jesuit college in Vilnius. The college was  granted university status in 1578 by Stefan Batory.
In the anthology of the literature about Lithuania "Litwo, nasza matko miła (Vilnius, 1996) there is a fragment of a book in Polish called "Rozmowy Polaka z Litwinem". Some researchers claim that it is an anonymous piece while other insist that it is Augustyn Rotund who is the author of the piece. The fragment (1564) tells about common origin of all nations. Freedom is the most important thing in the world. The author emphasizes a special dignity of the tribes of Lithuania and suggests that only if one lives in a free country can he live fully. He writes that loss of freedom by Lithuanian would be shameful for the Polish too.
Rotund wanted better treatment for both the townspeople and the estate, which was a very progressive and significant attitude during the reign of nobility and made a positive impact on the situation of the people of the town and the people of the country. Apart from "Rozmowy Polaka z Litwinem", Rotundus wrote "Cronica seu Historia", asked by Sigismund Augustus,
Rotundus also translated into Latin the II Statut of Lithuania making it available for other nations to read. He attached "Zarys dziejów książąt litewskich" ("Epitome principum Lituaniae") to it, where he presented the legend about Roman origin of the Lithuanian nation and connected with it genealogy of all the dukes of Lithuania. Around 1576 he made a statement that Lithuanian language is used only in the countryside. He was a member of the committee working on the III Statut of Lithuania. What is interesting, Rotund insisted on making Latin the national language of Lithuania.
His house was always open for people of different beliefs and many theological discussions took place there. Rotund was friends with, among others, Andrzej Wolan (one of the beautiful streets of the old town is named after him), Piotr Skarga, Walerian Protasewicz, Piotr Roizjusz Gościnny. People of science, art or trade had their meetings there.
Augustyn Rotund loved Vilnius very much. He spent there over 30 years of his life. Thanks to his involvment the town started to develop and flourish. Unfortunately, because of several fires and drives of enemies, it was hard to keep the achievements. All in all, Vilnius regenerated again and again. Rotund died on 20 March 1582 and most probably was buried in The Church of St. Johns.
Translated by Gabriela Godek within the framework of a traineeship programme of the European Foundation of Human Rights, www.efhr.eu.