The parents of learners from Polish schools have referred the educational reform to the court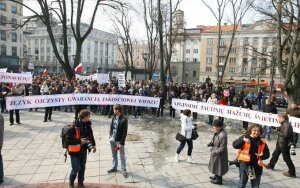 Lithuanian administrative courts have received four plaints against the executive acts to the amended School Education Act. The parents of learners from Polish schools have appealed against the directive of the Minister of Education and Science, which requires some subjects to be lectured in Lithuanian.
All of the lawsuits have similar grounds: the School Education Act is contrary to the Constitution and the Polish-Lithuanian Treaty assuring teaching in the mother tongue.
"It is a grassroots initiative of parents who want to appeal against the Minister's directive introducing teaching in Lithuanian in the Polish school. (…) The legal ground for these lawsuits is the Polish-Lithuanian Treaty signed in 1994 which guarantees national minorities in both countries teaching in a mother tongue" – said to PL DELFI Grzegorz Sakson, the chairman of the Polish Lawyers Association in Lithuania.
After this year's Matura exam, during which the unified exam in Lithuanian will be applied for the first time, the parents are going to appeal against the exams evaluation also.
For the moment, all the cases in the court are at the initial stage.
Amended School Education Act which was passed by the Seimas in March 2011 and the directory of the Minister of Education and Science issued on the basis of the Act anticipate lecturing the lessons of the history and geography of Lithuania and the knowledge about the world (concerning Lithuania) in Lithuanian language in the schools of national minorities. The subject "Patriotic education base" is to be lectured in full in Lithuanian. However, school councils in the majority of Polish schools in Lithuania have adopted a resolution at parents' request, saying that teaching all of the subjects in school (except for Lithuanian language) will still be in Polish.

Source: http://pl.delfi.lt/aktualia/litwa/rodzice-uczniow-ze-szkol-polskich-zaskarzyli-do-sadu-reforme-oswiatowa.d?id=60794339
Tłumaczenie Barbara Rożek w ramach praktyk w Europejskiej Fundacji Praw Człowieka, www.efhr.eu. Translated by Barbara Rożek the framework of a traineeship programme of the European Foundation of Human Rights, www.efhr.eu.