Linkevičiaus: "Cold peace" with Poland was pointless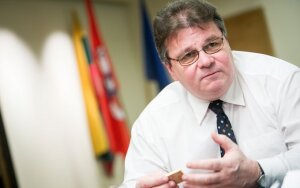 Linas Linkevičiaus, the Lithuanian foreign minister, called the recent period of Polish-Lithuanian relations as "cold peace" which, in his opinion, was pointless.
The minister stated that "we talk too much about what and how it used to be, instead of focusing on work that should have been done in past three years."
"We did nothing together, we couldn't write a letter, we couldn't even submit a project to the European Union. Now, these matters sprout like fresh grass in spring. The "cold peace" was a senseless period in the relations between our countries," Linkevičiaus said in an interview for "Verslo žinios" newspaper. "I encourage to discuss these issues as there are a lot of things to talk over. National safety, NATO's collaborative projects, cooperation on energy sector, "Via Baltica" and "Rail Baltica" projects,… should I enumerate more?" the minister said.
The apologies for the rejection of the act on the original spelling of names by the Parliament caused a turmoil in politics and the media this month.
Today, Linkevičiaus is visiting Poland for the second time. The Lithuanian foreign minister is participating in the meeting organised in Gdansk for the foreign ministers of all countries belonging to the Visegrad Group.

Source: http://pl.delfi.lt/aktualia/litwa/linkevicius-zimny-pokoj-z-polska-byl-bez-sensu.d?id=60714621
Tłumaczenie Patrycja Olszówka  w ramach praktyk w Europejskiej Fundacji Praw Człowieka, www.efhr.eu. Translated by Patrycja Olszówka  the framework of a traineeship programme of the European Foundation of Human Rights, www.efhr.eu.