Vilnius mine and yours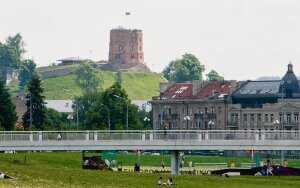 On the alternative scene of Vilnius, the bands' Will'n'ska "and Kite Art, a new " player " appeared. In the network Janki Rozbeglovej song appeared "Vilnius mine and yours". The song was sung by Villainous.
Currently she resides outside the country, and the work was written with nostalgia. "While staying abroad I very often think about Vilnius. Two years ago, I couldn't imagine that I will idealize this city so much, where it haunts from time to time, because it is not known what will happen after returning, and I'll be back for sure, because it seems that the roots have outgrown the miles and miles of land and no longer have their snatch Vilnius  "-the artist PL DELFI explained.
"I do not know exactly if Jańka Rozbeglova is an escape, or rather a personal back to everything, what I love the most, I mean Vilnius and Wilniuków, but if I can't be there, let it at least be Jańka and the satisfaction will divide into two," Jańka said.
The singer does not agree, that it is the language of Vilnius. "The language in which the song was sung
is not completely Vilnius, this is more the caricature of Vilnius, as evidenced of the russianism. This, however can be received as a kind of rebellion, or rather throwing in different directions at the same time searching for his own identity, "she pointed out.
However she does not fear criticism. "If the charges are in the form of virtual comments from dissatisfied, complex-ridden, lazy group of people, I'm sure I'm not afraid. As for distortion of language, listening to songs is not mandatory "- Janke noted.
Part of the audience immediately compared the song " Wilna moja i twoja " creativity of Alina Orlová.
"Really I listen to and promote the music of Lithuania, or the 'underground 'ową. Is fantastic! We have a lot of incredibly high quality performers in any style, from death metal to trip-hopa, "explained the artist.

Source: http://pl.delfi.lt/kultura/kultura/wilna-moja-i-twoja.d?id=60694479
Tłumaczenie Katarzyna Dąbrowska w ramach praktyk w Europejskiej Fundacji Praw Człowieka, www.efhr.eu. Translated by Katarzyna Dąbrowska the framework of a traineeship programme of the European Foundation of Human Rights, www.efhr.eu.