Komorowski will meet with Lithuanian Poles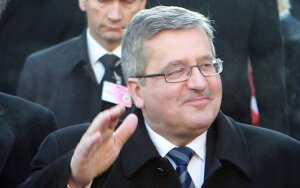 The President of the Republic of Poland Bronisław Komorowski arrives in Lithuania today to participate in the celebration of Lithuanian National Revival Day. On the eve of the visit, Komorowski declared that now is the moment when we can think about the improvement of Polish-Lithuanian relations.
'For the time being there are declarations from the new political powers which form the new government. This must be accepted with hope but of course it must be intently observed whether the promises will turn into actions. I think that the faction of Polish members of  parliament will encourage Lithuanian citizens to those action – said Polish President during the "Polish Radio" interview.
Yesterday, the President of Lithuania said in one of the television programme that Lithuania should look for friends who do not make conditions. 'We have problems in different areas. These are external pressures, global challenges and the fact that it is sometimes very hard for small nations living next to the big ones to protect their interests. It is necessary to look for friends, but not the selfish ones who want to be friends without making conditions in advance. There are not many friends like that around us' – said the President during the television programme 'Laba diena, Lietuva' on LRT.
At 12 o'clock, Bronisław Komorowski will participate in the ceremony of putting up the national flags of Lithuania, Latvia and Estonia. The Polish President will deliver a short speech. 40 minutes after the ceremony, the talks of delegation led by the president of Poland and Lithuania will be held in the Presidential Palace.
At quarter past 3, the President of the Republic of Poland will lay a wreath at the commemorative plaque in remembrance of Zygmunt Sierakowski and Konstanty Kalinowski; 10 minutes later Bronisław Komorowski will light a candle under the wall of the prison in  Lukiškės. The President of Poland will meet with the representatives of Polish minority in Lithuania at 4 p.m. at Pac Palace.
Source: http://pl.delfi.lt/aktualia/litwa/komorowski-spotka-sie-z-litewskimi-polakami.d?id=60688807
Tłumaczenie Barbara Rożek  w ramach praktyk w Europejskiej Fundacji Praw Człowieka, www.efhr.eu. Translated by Barbara Rożek  the framework of a traineeship programme of the European Foundation of Human Rights, www.efhr.eu.