Polonia Wilno will play in the Premier League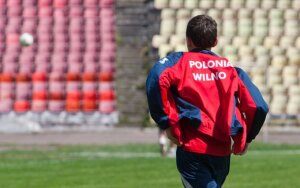 On Monday The Licence Appeal Committee of the Lithuanian Football Federation ((Lietuvos futbolo federacija (LFF)) disallowed an appeal of Polonia Wilno football team. However, as it turned out yeasterday, the Executive of LFF allowed the team to play in the Premier League but with three spots.
The Executive made a decision that in this season there will be 12 teams in the Premier League . Nine of them ("Lietava", "Nevėžis", "Trakai", "Šilutė", "Kėdainiai", "Lokomotyvas", "Žalgiris-3″, "Spyris", "Šilas") received a license to play in an ordinary mood. The additional three teams ("Klaipėdos Granitas", Polonia Wilno i FK "Palanga") received this license to play in the Premier League as an exceptions.
Two teams "Klaipėdos Granitas" and Polonia Wilno did not fulfill all the requirements needed to receive an license so that they would start a game in the Premier League with three spots. The third team – FK "Palanga" – would have six spots. What is more, the teams were also forced to pay a fine of 1000 Lithium and are obliged to show the documents which will prove that the teams fulfill all criteria to play in the Premier League until 20 March.
The beginning of the games is planned on 13-14 April.

Source: http://pl.delfi.lt/kultura/kultura/polonia-wilno-zagra-jednak-w-i-lidze.d?id=60682835#ixzz2MTRiCcXa
Tłumaczenie Diana Omiljaniuk w ramach praktyk w Europejskiej Fundacji Praw Człowieka, www.efhr.eu. Translated by Diana Omiljaniuk the framework of a traineeship programme of the European Foundation of Human Rights, www.efhr.eu.