Butkevičius: This is not listeners choice (Prime Minister called Tomaszewski's statement PR gimmick)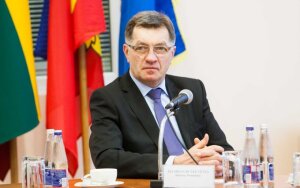 Algirdas Butkevičius, Lithuanian Prime Minister, called Wlademar Tomaszewski's statement about EAPL leaving the ruling coalition a PR gimmick. He believes that the statement made by the leader of EAPL may be connected with his visit to Poland.
"Some suggestions were made that some promises were not fulfilled. I think that those promises could not be fulfilled during just two months. This is not a listeners choice but the government policy which should be realised consistently and put into effect. The atmosphere during session was congenial but after all his statement for the press surprised me. It looked rather like a PR gimmick," told Algirdas Butkevičius to LRT.
Prime Minister believes that such statements may be connected with his visit to Poland. "I hope that I will manage to get on the phone with Tomaszewski. Perhaps, as the leader of EAPL, he wanted to share his view before I go to Poland. I think that a reason lies somewhere else," suggested Butkevičius.
Yesterday, a meeting of the political council of the ruling coalition was held. "We are thinking about leaving the coalition as there are problems in communication while working in the present majority. That's what I can say now, I see no further prospects for a cooperation in this coalition", said Tomaszewski after the meeting.
Tomaszewski explained that EAPL is more concerned with budget matters than minority issues. According to the leader of EAPL, the coalitional partners did not abide by the coalitional agreement and do not keep their word. "We agreed to re-examine the investment projects and make amendments. However, nothing was done. In some cases the funding was even cut down. We can't work in the coalition in which partners can't keep their word," Tomaszewski explained.
The present ruling coalition is made up of four political parties: the Social Democratic Party, the Labour Party, Order and Justice ("Tvarka ir teisingumas") and EAPL. In general, there are 85 MPs in the coalition.

Source: http://pl.delfi.lt/aktualia/litwa/butkevicius-to-nie-jest-koncert-zyczen.d?id=60651359
Tłumaczenie Patrycja Olszówka w ramach praktyk w Europejskiej Fundacji Praw Człowieka, www.efhr.eu. Translated by Patrycja Olszówka the framework of a traineeship programme of the European Foundation of Human Rights, www.efhr.eu.