Poland is waiting for Act on Minorities (Polish press on Polish-Lithuanian relations)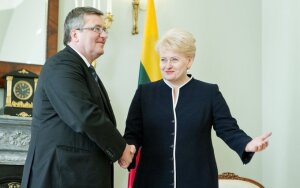 Recently, the relations between Poland and Lithuania were quite tense. Politicians on both sides are waiting for the breakthrough in relations. Therefore, February may be the decisive month to determine the further relations between Vilnius and Warsaw.
Today, Linas Linkevičius, the Minister of Foreign Affairs, begins his two-day visit in Poland. Next week, the Prime Minister Algirdas Butkevičius, is visiting Warsaw. The President of Poland, Bronislaw Komorowski, is visiting Lithuania on the 16 of February.
Chance for a breakthrough
"The forthcoming weeks will be decisive for Polish-Lithuanian relations. There is a chance for a breakthrough. Politicians are aware of it, hence their unprecedented activeness," writes "Rzeczpospolita". The newspaper emphasizes that the government initiated a dialogue with Polish minority in Lithuania. Yesterday, the Lithuanian foreign minister visited Vilnius Region, where the majority of population are Poles.
Social democrats claim that problems with Polish signs or original spelling of names can be quickly resolved. "The improvement of the relations is in the interest of both countries. How quickly the problems are solved, will depend on mutual efforts. I believe that the current Centre-Left coalition has enough good will. The issue concerning the spelling of names can be quickly resolved and it is also possible to reach the compromise on standardization of the school-leaving examination in Lithuanian language," said to "Rzeczpospolita" Gediminas Kirkilas, the former Prime Minister of Lithuania.
First warming in the relations or just a false dawn?
Polish side is waiting for a breakthrough but is afraid that Polish-Lithuanian "reconciliation" may end up by making declarations. "Poland expects that Lithuania will introduce an act on minorities. That would be the first effect of warming in relations between both countries," writes "Gazeta Wyborcza." "Because Lithuania still hasn't introduced the act, the country has been criticized not only by Poland, but also by the Council of Europe. Lithuania has to pass this law in order to meet the international obligations," a Polish diplomat informed a newspaper.
Moderate mood prevails in the Polish Foreign Office. "This may be the new beginning of Polish-Lithuanian relations. Let's hope it's not a false dawn," said an anonymous diplomat.

Source: http://pl.delfi.lt/aktualia/polska/polska-czeka-na-ustawe-o-mniejszosciach-narodowych.d?id=60603251
Tłumaczenie Patrycja Olszówka w ramach praktyk w Europejskiej Fundacji Praw Człowieka, www.efhr.eu. Translated by Patrycja Olszówka the framework of a traineeship programme of the European Foundation of Human Rights, www.efhr.eu.