"Złoty głos": The television is going to meet the needs of Poles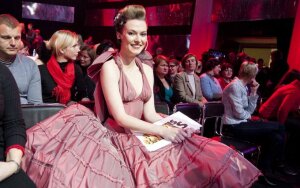 On a public television there is going to be a new music competition "Złoty głos" ("Auksinis balsas") in which we would see Lithuanian Poles. It will be a show of Karina Krysko who has Polish roots, in jury we would see Zbigniew Lewicki – an outstanding violinist, composer and concertmaster of the Lithuanian State Symphony Orchestra and an activist of the Polish minority in Lithuania. Beata Tiškevič, an actress who also has Polish roots, will be the host of the show.
"I tried to suggest the producers that I am an instrumentalist and in jury there should be a person who knows a lot about vocal. However, in their opinion, my voice will be also very precious" – said Zbigniew Lewicki to PL DELFI.
In Zbigniew Lewicki opinion it is much easier to be in jury than to take part in a show on a stage.
"I'm so happy that there are artists who have Polish roots, for instance Ewelina Saszenko or Katarzyna Niemyćko. I'm so glad that the television, in contrast to policy, want to meet the needs of Poles, that there are no barriers between different nationalities and only skills and talent of  participants are taking into consideration" – said Lewicki.
However, the composer highlight the fact that if someone has Polish roots, it does not necessarily mean that this person has Polish mentality.
In a show there will be a competition between people who represent different kind of music: from jazz to opera singing. We can admire the talent of so many people, for instance: Viliji Matačiūnaitė, Aistė Pilvelytė, Laury Zigmantaitė, Violety Tarasovienė, Česlovasa Gabalisa, Vaidasa Baumily, Ruslana Kirilkina i Viktorasa Gerasimovasa.

Source: http://www.wilnoteka.lt/pl/artykul/dni-suwalkiji-na-kaziukach
Tłumaczenie Diana Omiljaniuk w ramach praktyk w Europejskiej Fundacji Praw Człowieka, www.efhr.eu. Translated by Diana Omiljaniuk the framework of a traineeship programme of the European Foundation of Human Rights, www.efhr.eu.