"Fame and wealth": First losses: In the next article pictures of Nijoli in the shower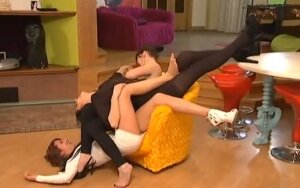 The first loss in the new reality show "Fame and wealth" ("Šlovė ir turtai") wherein participates already are known from another reality show "Council is looking for a wife" ( "Radži ieško žmonos") shocker, Polka from Vilnius Nijolė Malevich.
EN DELFI recalls that in reality show, fame and wealth, "the producers of the participants, living under one roof, trying to find latent talent,  get the diamond and grind to the end of the program to provide the public a real diamond.
Last week, the show "unexpectedly" ended before the announcement of the verdict Lithuanian celebrities who have evaluated performances of two participants. You also can not forget the hysteria Nijoli who "from a small spark can make a nuclear bomb." This time she got dressed down by  her friends from another show as a "village" sandwiches. Stream censored words heard the whole Lithuania.
Another episode began with the stars of the verdict. You can specify that the performances did not appeal equally. Alma berated famous Lithuanian singer Mia, a dance was performed by women dressed Nerijus shocked Merunasa an opera singer and his wife Erika, but the prevailing rudeness Alma, which left the project for good.
Also Marina Bui failed, who had the chance to compete in the contest song "Celebrity Duets" ("Žvaigždžių duetai"). The judgment of the committee: Marina is too weak for a great scene.
On the second day the host, and also a professional dancer, Tadas Rimgaila tested the performed dance. Dance talents were not discovered. Only  a daivi stripper by profession, suggested trying out each other in burlesque. To help select Nijolė and Vilma. In the evening, the girls presented a dance that leads Gintare Gurevičiutė described as "the best parody until now."
Night participants spent in meditation, because the next day everyone had to give a negative (stone) and positive (diamond) vote for the other participants. The one who collects the most stones will sit on the hot seat, and the participant who will earn the most diamonds, becomes an executioner, who will choose the second contender to leave the project.
The third day began with the separation of diamonds and gemstones. Most stones were collected and the hot chair was taken first by Vilma (a girl with conservative views), and the executer was Marina, who placed Nerijus on the second hot seat (this from dancing in negligee). Conflicting pair was put in the hands of viewers. Vilma collected  711 viewer votes only and Nerijus only 159.

Source: http://pl.delfi.lt/rozrywka/slawa-i-bogactwo-pierwsze-straty.d?id=60565363
Tłumaczenie Katarzyna Dąbrowska w ramach praktyk w Europejskiej Fundacji Praw Człowieka, www.efhr.eu. Translated by Katarzyna Dąbrowska the framework of a traineeship programme of the European Foundation of Human Rights, www.efhr.eu.