The new government about national minorities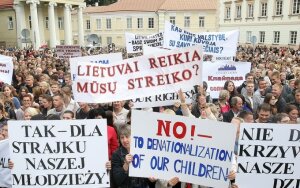 In its program, the new ruling coalition will promise to national minorities' original spelling of names and bilingual names of streets and cities. The program also predicts that in the issue of unified high school exam from the national language, a transition period will be extended.
"We will solve the problem of spelling names and bilingual names of streets and cities. We agree with the Framework Convention for the Protection of National Minorities"- is written in the program.
The program is written that "the network of schools of national minorities (Polish and Russian) will be reorganized with taking into account the interests of national communities".
The current ruling coalition form four parties: the Social Democrats, the Labour Party (Darbo Partija), "Order and Justice" ("Porządek i Sprawiedliwość") and EAPL.

Source: http://pl.delfi.lt/aktualia/litwa/nowy-rzad-o-mniejszosciach-narodowych.d?id=60069977
Tłumaczenie Daria Bergmann w ramach praktyk w Europejskiej Fundacji Praw Człowieka, www.efhr.eu. Translated by Daria Bergmann the framework of a traineeship programme of the European Foundation of Human Rights, www.efhr.eu.