"Silence" and "Body ", or nature and abstraction – a summary of the art in the open air of The House of Polish Culture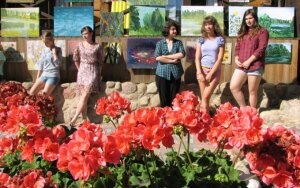 The exhibition of art in the open air entitled "Freedom, give me wings", organized by the House of Polish Culture in Vilnius is finished. 17 girls and 2 boys aged 14 to 18 years within a week were trained in on how to improve in the art of painting and photography.
"This year, I put the emphasis on thought-provoking topics. Every day, young people had a different theme: "Silence", "body", "light". We had also workshops on analog photography – this year they were dedicated to cyanotype, one of the oldest techniques "- explained Weronica Elertowska responsible for the photography during the open air event.
It is already the seventh open air event organized by the House of Polish Culture in Vilnius. In the interview with reporters, youth expressed their enjoyment about the fact that the lecturer allowed them to spread their wings and helped them to develop their own thinking, instead of  imposing on the youth their own.
Young artists worked mostly outdoors, near the lake, so the theme of the majority of works was the nature, although some decided on abstraction.
"In the evenings we organized the reviews and then we selected the best works of the day. Each person talked about their work, in this way others could get something for themselves from the work of colleague "- said Alexandra Warchoł.
"This year we received 38 applications, but we chose only 19. Some of the applicants paints and shoots with passion, while others attend art classes. Participants were selected on the basis of the work that everyone should have submitted together with the survey. Then lecturer were searching in the works for "that thing" and approve a person to the open air "- explained Irena Brazis – the project coordinator at the House of Polish Culture.
During the time free from classes, lecturer suggested that youth should come up with jolly ads, which on the other hand helped in the integration of participants who were not friends with each other. In this way several jolly ads were created, for example "Village Travel"
According to the young people, who participated in the open air, they really liked it and everyone, without exception, will try to attend the next one.
Translated by Patrycja Pawłowska within the framework of a traineeship programme of the European Foundation of Human Rights, www.efhr.eu.