Mass resignation of ministers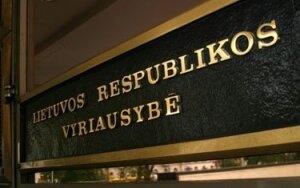 After the government's decision to dismiss all deputies, they should of their own wills hand in their resignations, stated government officials. 
On Tuesday was officially announced that on Friday three vice-ministers of the Ministry of Environment will of their own wills tender their resignations. These are: Daiva Matonienė and Almantas Petkus, members of the party 'Order and Justice' (pl. 'Porządek i Sprawiedliwość'), Social Democrat Linas Jonauskas as well as all vice-ministers of communications – Saulius Girdauskas of the Labour Party (pl. Partia Pracy), Władysław Kondratowicz on behalf of the Electoral Action of Poles in Lithuania, EAPL (pl. Akcja Wyborcza Polaków na Litwie, AWPL) and non-partisan Arijandas Šliupas.
In the case of the resignation officials will not receive severance payments. After allegation of the President Dalia Grybauskaitė about the suspicious activity of some vice-ministers, the ruling coalition decided to dismiss all vice-ministers, and after being sworn the President, ministers will form their teams again.
On Tuesday, the Prime Minister Algirdas Butkevičius declared that in the 'black list' of vice-ministers presented by the Special Research Service (pl. Służba Badań Specjalnych) there are eight vice-ministers who will not be in the new government.
Prior to this handed in their resignations the vice-minister of Agriculture Rytis Šatkauskas and vice-minister of Justice Saulius Stripeika.