Waldemar Tomaszewski: the old act about national minorities will come back soon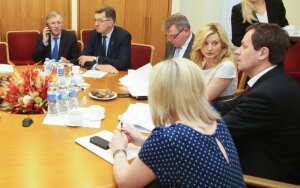 The leader of Akcja Wyborcza Polaków na Litwie Waldemar Tomaszewski declared that the Political Committee of the ruling coalition agreed that before the end of the spring session they will bring the old act about national minorities back.
 'We decided to start discussing the content of the Act on national minorities from the year 1991 which was signed by the then head of state Vytautas Landsbergis. The discussion and adoption will be held. Until we accept the new law, the old one will be valid' – said Tomaszewski.
The politician added that it was agreed to start the consideration of the Act about the original spelling of names.
'In the case of spelling of names, there will be registered a project which will be considered by committees, and during the autumn session the law will be adopted' – claimed the leader of AWPL. Tomaszewski highlighted that the coalition has been working stably and no change is planned. Words of the politician confirmed the Prime Minister Algirdas Butkevičius.
Translated by Ewelina Filonik within the framework of a traineeship programme of the European Foundation of Human Rights, www.efhr.eu.