Steponavičius: We appeal against the minister's directive concerning the Lithuanian language exam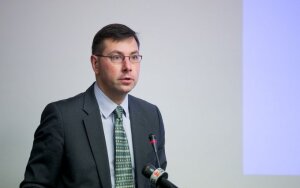 The directive issued by the Minister of Education and Science, according to which Lithuanian language exams for learners of national minorities are to be easier, will be referred to the court – informed on Friday the former Minister, Gintaras Steponavičius.  
"The opposition – the Liberals, but we are also talking with the Conservatives – will support social institutions which want the case to be taken to court" – the politician informed BNS agency.
Gintaras Steponavičius thinks that the Minister Dainius Pavalkis's directive, which in fact changes the unified Lithuanian language and literature exam, is in contradiction with the school education act. According to the law, Matura exam has to be the same for all graduates, regardless of the language of teaching.
Apart from that, the politician thinks that the graduates may feel disappointed because at the beginning of the school year each of them had familiarized themselves with the programme applying to the exam and they put their signature on it. Other legislative acts also forbid to make essential changes a few months before the exams.
According to the directive signed by the Minister Dainius Pavalkis, at the exam the graduates of non-Lithuanian schools will write essay of minimum 400 words, whereas the learners from Lithuanian schools – 500 words. Gintaras Steponavičius thinks that such decision had been taken without in-depth specialized analysis. The former government decided that after 2-year transitional period which ends this year, the Lithuanian language exam for Lithuanian and non-Lithuanian schools will be identical. Moreover, 8-year transitional period for the exams evaluation has been anticipated.
Up to now, the National Examination Centre has organized two different Matura exams in Lithuanian language: as a mother tongue for schools with Lithuanian language of teaching and as an official language for graduates from schools of national minorities.

Source: http://pl.delfi.lt/aktualia/litwa/steponavicius-zaskarzymy-rozporzadzenie-ministra-ws-egzaminu-z-jezyka-litewskiego.d?id=60752997
Tłumaczenie Barbara Rożek w ramach praktyk w Europejskiej Fundacji Praw Człowieka, www.efhr.eu. Translated by Barbara Rożek the framework of a traineeship programme of the European Foundation of Human Rights, www.efhr.eu.