Niemycko first once again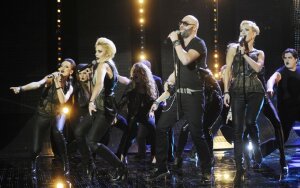 After the first failures, Katarzyna Niemycko has the upper hand again. In the following episode of the singing competition "Celebrity duets" ("Žvaigždžių duetai"), Jonas and Pop Ladies duet took the first place.
After the failure in the beginning of the show, things for Katarzyna's "duet" have taken an encouraging turn and they took the first place. The jury unanimously gave the highest marks. The audience's votes gave the "duet" the second place; Justinas Lapatinskas and Agnė Buškevičiute, the daughters of well-known politician Stanislovas Buškevičiaus, took the first place.
The second place, awarded by the audience, did not prevent Katarzyna's "duet" from taking the first place in general classification. "Let Me Entertain You", a song by Robbie Williams, helped the "duet" win this episode.
Monika Linkytė and Tadas Rimgaila took the last place and said goodbye to the show.
So far it is the 7th edition of the "Celebrity Duets." Niemyćko sings a duet with Jonas Jonušas, one of the first members of the famous boys band "B'avarija." The duet is supported by the girls from "Pop Ladies" band – Oksana Pikul and Liepa Modeikaitė.

Source: http://pl.delfi.lt/rozrywka/niemycko-znowu-pierwsza.d?id=60691579
Tłumaczenie Patrycja Olszówka w ramach praktyk w Europejskiej Fundacji Praw Człowieka, www.efhr.eu. Translated by Patrycja Olszówka the framework of a traineeship programme of the European Foundation of Human Rights, www.efhr.eu.