23-anniversary of Vilnius Pouches: We act and we love it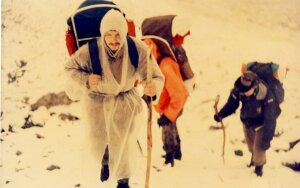 In the distant 1990, 10 Polish students gathered in an apartment of Elvira Ostrowski in Vilnius. The result was, or rather was reborn, the Pouches Club Vilnius. The first club meeting was held on February 13.
The celebration will be held this Saturday. "February 16 we baptized the infant, baptism is connected with the celebration of birthdays," – said UK DELFI Bozena Mieżonis, Expiration (Chair) Pouches Club Vilnius. Mieżonis considers the last year as successful. "In 2012 we had traditionally new training (each year we learn something new), this time it was  kitesurfing.
Now we are in his circle of vagrants who are dreaming of waves and are waiting for the wind. We have earned the top "Cracks" in Tatra mountains, 1st place to Rally Tourist Poles in Lithuania. In short, we work and we love it "- said Expiration Club.
This year, the club also plans to learn something new. "Maybe scuba diving, horse riding or something more extreme. We are not planning to sit in one place, but to go always in the direction of the sun "- shared with us PL DELFI Bozena Miezonis.
History and the Present Day
In 1990, some members of the initiation group soon withdrew from the activities of "rambling". Only six students of the university of Vilnius stayed: Michael Kleczkowski, Elvira Ostrowska, Arthur Ludkowski, Krzysztof Szejnicki, Wladyslaw Boris and Richard Skórko.
Bums stress that traveling is not the goal in itself. "Erroneous opinion is that the purpose of KPIs is traveling. Travel is a way to achieve the goal, and the goal is self-improvement. During the trip the man learns a lot – gets to know the world, friends and himself "- confessed EN DELFI veteran Waldemar Szełkowski Club, a history teacher, and now Vilnius city councilor.
However, the Vagrants have numerous trips on their accounts. Over 23 years the Club has on its account exotic places like the Caucasus, Siberia, Latin America, Central Asia and the Balkans. Not to mention visiting the neighboring countries and well-known: Polish, Belarus, Latvia, Ukraine and the Czech Republic.
Initially, the club functioned as a ZPL circle, and as an independent organization was registered in August 1995. It currently has 32 ​​members. During the 20 years of the club over a hundred people came and went away.
Modern Vagrants refer to the Club Pouches in Vilnius, which was established in 1931 and focused on the Vilnius academic youth. At that time, the club could include only men. Members of the club were: the future Nobel laureate Czeslaw Milosz, a poet Theodore Bujnicki the famous Polish traveler Albert Korabiewicz.

Source: http://pl.delfi.lt/kultura/kultura/23-lecie-wloczegow-wilenskich-dzialamy-i-kochamy-to.d?id=60665677
Tłumaczenie Katarzyna Dąbrowska w ramach praktyk w Europejskiej Fundacji Praw Człowieka, www.efhr.eu. Translated by Katarzyna Dąbrowska the framework of a traineeship programme of the European Foundation of Human Rights, www.efhr.eu.