Dowigała's fairytales. "I'm sorry" and "thank you"…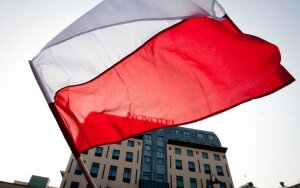 …are free. That's what my ex–boss and the mentor of my life decisions once taught me. Life proves he was right. My mother taught me that humility gets you everywhere and life has shown, many times, that the lesson was not vain. Recently, on the very top of the list of public apologies, appeared those made by out Minister of Foreign affairs. But let's take in step by step.
Fairytale 11th. About love and bills.
Sometimes I think that politicians and citizens, especially here, in Lithuania, behave ideally like characters from the title of John Grey's psychological work Men Are From Mars, Women Are From Venus. When it comes to some matters, we are from completely different planets. With different environment, different everyday life, families, salaries, ways of entertainment. And the only thing that we share is the budget.
For the past four years, people living in and close to Marijampolė have been visiting Poland regularly, every weekend. The Lithuanian Minister of Foreign Affairs has not been in the area even once.
The government has changed; declarations about improving the relations between Poland and Lithuania were publically made. For now, everything looks like the history of a shepherd. One day he went out to the porch of his hut and, seeing Podhale in a spring atmosphere, with beautiful sun and hearing birds singing everywhere, he shouted "The world is so beautiful!" and the echo automatically repeated "F*ck, f*ck, f*ck.."
When, several days ago I heard in the radio for the first time that "Linas Linkevičius has apologised to Poles" I intuitively shrank, with the unconscious impulse "here we go again, it will begin in a moment".
It is an open secret that Lithuanians, apart from "never running away" also "never say they are sorry." It's easy to explain that, because for the 100 years of the reborn statehood we have been a relatively small nation. Demographically, geographically and geopolitically. When it comes to acts of apology, then (at least in the minds of those "from Mars") we should first wait for the list of apologies from all the neighbouring countries, for everything. It would be even better if the UN did it, in a general declaration made on the behalf of all nations of the world. And then we will see, we will discuss a few things, we will obtain a permission from the government and the president and then we may, in a very casual way, say to someone this magic sentence "I'm sorry".
During his most recent visit to Poland, our Minister was careless enough to say it twice. Both times in interviews for the most important Polish newspapers. The basic carelessness was based on the fact that the apologies did not fulfill the abovementioned conditions at all.
The person who is most responsible for it is probably Jerzy Haszczyński from Rzeczpospolita. His title for the interview is "I apologise for Lithuanian MPs". (I inform those, who don't know it: titles rule the newspaper and magazine world. The basic criterion for a reader, deciding whether he or she will read the article further or not, is a title which should knock one down at once.)
There came a buzz in the Lithuanian beehive, as if someone hit the stubborn Lithuanian head with a baseball bat.
Easy. For now, it buzzes for the people who deserve it. For instance the conservative Andrius Kubilius has declared that he Minister apologised only for social democrats. A member of the national group, Gintaras Songaila, has promised to organise a peace protest group composed of "all Lithuanian patriots", if the Minister does not resign immediately. Political scientists have begun a public discussion about what Linas Linkevičius had apologised for, what exactly he had said, what he had had in his mind and who had permitted him to do it all.
And in Vilnius there's still winter. At night show fell. There will be no Spring mood.
The Polish Minister of Foreign Affairs accepted the attitude of our Minister as a wise one. He promised that, since everything has been going so well, from now on we would realise state tasks not only simultaneously but also together.
As a word of encouragement, he mentioned connecting Lithuania to the Polish gas system and giving it a permission to use the Polish gas terminal in Świnoujście.
Instead of an epilogue I will tell a short story about a farmer, who in February decided to manage his land cardinally and differently than all his neighbours. The main innovation was – ignoring the saint day.
On each beautiful (and not so beautiful) Sunday, from March to September, he was on the field, working. He was solving agricultural, financial and production-related problems. Unlike his neighbours, who were dedicating Sundays to the Mass, resting, spending time with family and friends.
When he was summing up the results of his innovation in October, it turned out that his financial results are 1.5 times better than anywhere in the area and 2 times higher than they were last year. And he said to himself, aloud: "What is it with your Sunday? My innovation has showed that my results are as good as even. The Almighty apparently has no objection." And the Boss told him from above: "God doesn't always send bills in October."

Source: http://pl.delfi.lt/opinie/opinie/bajki-dowgialy-przepraszam-i-dziekuje.d?id=60631279
Tłumaczenie Emilia Zawieracz w ramach praktyk w Europejskiej Fundacji Praw Człowieka, www.efhr.eu. Translated by Emilia Zawieracz within the framework of a traineeship programme of the European Foundation of Human Rights, www.efhr.eu.