Maciążek: Poland is realising an alternate history variant. Friendship with Russia instead of union with Lithuania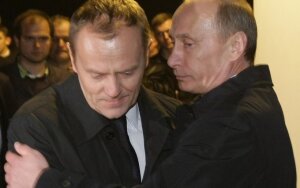 I was astonished at Bronisław Komorowski's behaviour during his participation in ceremonies marking the 94th anniversary of Lithuanian independence in February, where he reciprocated President Grybauskaite's participation in celebrations held on 11th November in Warsaw.
After mutual assurances of strategic relations and political concurrence between our countries, Komorowski went to Paneriai to pay tribute at the memorial to the Polish victims of the Ponary massacre. By the same token, right after mutual embraces with Grybauskaite on this special day for Lithuania, he reminded Lithuanians of the shameful crime in which they partook.
I think that Grybauskaite remembered that incident. I remembered it myself after the absence of the Lithuanian president at this year's Independence Day celebrations in Poland. Of course Grybauskaite's decision cannot be considered a reaction to Komorowski's behaviour. However, it is an indication of the scale of deterioration in relations between Poland and Lithuania and of our sensitivity towards this little neighbour with which we are connected by great history. Indeed, I would like to place emphasis on the word "sensitivity," because we have become hostages to the Polish minority in the Vilnius Region and ceased to look at certain issues strategically.
For how to determine our current ambiguous stand on the Visaginas power plant? There is no doubt that in a broader context the plant is closely connected with the Polish one: seemingly, they both are no longer needed if we juxtapose them with the one currently being built in Kaliningrad, which is supposed to be oriented to export. After all, Grybauskaite and her advisers have been recently hearing foghorn voices from Warsaw saying "shale or atom" (the latter was not even mentioned in Donald Tusk's expose). If both Visaginas and the successor of communist Żarnowiec are not built, the chances for creating a Polish-Russian power bridge rather than a Polish-Lithuanian one will increase.
Russia does not lounge about and from the very beginning it has been making the "choice" easy for its neighbours. The Kaliningrad power plant will start selling energy as early as 2016. This means that a Russian-Polish power bridge could be established in 2015 (according to the head of Rosatom), long before the project finalisation between Poland and Lithuania (the last phase will be finalised in 2020). The Russian-Polish agreement would immediately create transmission capacity which would be competitive with the aforementioned project. Grybauskaite understands those nuances perfectly. Along with minister Sikorski's general policy, i.e. making deals with large countries while disregarding small ones, these nuances have made her rebellious. She will realise this rebellion by means of diplomacy, already visible in her absence at the aforementioned ceremonies of the Independence Day.
In this context Poland's policy, including energetic policy, is expressed as an alternative variant of our history. There will be no union with Lithuania and an agreement between Warsaw and Moscow will be built at its expense (at least according to my understanding). It is evident that minister Sikorski is an enthusiast of the Kaliningrad Triangle. Its idea is now forged into concrete resolutions at the Ministry of Foreign Affairs. An agreement on local border traffic in the Kaliningrad Region, beneficial to Russia, is one of them. This resolution has been President Putin's objective for nearly a decade (one of his offers was e.g. to create an extraterritorial railway between Moscow and Kaliningrad via Lithuanian territory). Meanwhile, Poland gave the agreement the green light, although it does not benefit from it, since neither navigation via the Strait of Baltiysk nor Russia's blockade of the seaport of Truso was regulated.
This is not by all means an isolated example of diplomatic creativity shown by the current Polish government. It is no wonder why the recent publication of Piotr Zychowicz's book, "Pakt Ribbentrop-Beck" (Beck-Ribbentrop Pact) has kindled great emotions in Poland. It corresponds with the real, progressing proximity between Poland and Germany. Two blog entries on this topic can already be found on the official site of the Ministry of Foreign Affairs, although the site itself was created not long ago. It is vital to emphasize in this context, that the president of Lithuania noticed Warsaw's new policy, received as a correction of Polish "political errors." In such political circumstances there is no place for Vilnius, which is a hidden agenda for particularly bad relations between Poland and its former strategic ally.

Source: http://pl.delfi.lt/opinie/opinie/maciazek-polska-realizuje-wariant-historii-alternatywnej-zamiast-unii-z-litwa-przyjazn-z-rosja.d?id=60094631
Tłumaczenie Aleksandra Christ w ramach praktyk w Europejskiej Fundacji Praw Człowieka, www.efhr.eu. Translated by Aleksandra Christ the framework of a traineeship programme of the European Foundation of Human Rights, www.efhr.eu.