Mackiewicz: An attempt to threat the Polish leaders in Lithuania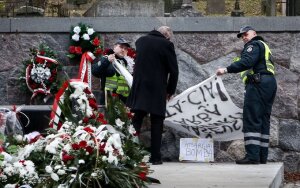 According to the Association of Poles in Lithuania, the Saturday's incident in the Rasos Cemetery was directed against the leaders of Polish community in Lithuania. The Associacion demands taking all the steps to uncover the perpetrators from the Lithuanian law enforcement bodies. 
"On November 24, in the Rasos Cemetery, there was another incident in the place where the tombstone with the inscription "Matka i serce syna" ("A mother and the heart of her son") is. This is the mausoleum of Marshal Józef Piłsudski. Unknown perpetrators hung a poster next to the tombstone. The content of the poster incites to hatred for Poles and it is supposed to be a threat directed to the leaders of Polish community in Lithuania", said Michał Mackiewicz, the leader of the Association of Poles in Lithuania, in his statement. He also said that the Board of the Association is indignant about that act of vandalism which "desecrates the memory of the dead in a place which for us, Poles, is of special importance".
Mackiewicz has appealed to appropriate authorities in Poland and Lithuania. "I would like to draw the attention of the services responsible for the state security and order to the repeated incidents in the place of the mausoleum of Marshal Józef Piłsudski. The Association of Poles in Lithuania demands taking all the actions to uncover the perpetrators of this dishonourable offence. The Association also thinks that relevant institutions both in Lithuania and in Poland should take steps to protect the military section in the Rasos Cemetery against another incidents which violate the importance and gravity of that place", said Mackiewicz in the statement.
On Saturday, November 23, unknown perpetrators hung a poster next to the tombstone with a notice: "Tomaszewski, if you do not cease your activity, you will be buried here". The perpetrators also left a carton box with the following notices on it: "TNT", "Attention, a bomb here" (org. "Atsargiai, bomba"), "Call the police" (org. "Kvieskit mentus")  and "Poles will die" (org. "Lenkai mirs").
Antoni Mikulski, the Deputy Commissioner of the Police in the Vilnius Region, informed the media that "the inquiry against that act of vandalism has been opened".
Jarosław Kamiński, the Deputy Mayor of Vilnius, told PL DELFI that by March the Marshal's mausoleum will be under video surveillance. The earliest we will be able to install the monitoring system is March 2013. The budget will be accepted in February. We know we have to set aside funds for this aim", said the Deputy Mayor.

Source:  http://pl.delfi.lt/aktualia/litwa/mackiewicz-proba-zastraszania-polskich-liderow-na-litwie.d?id=60089055
Tłumaczenie Marta Dubiel w ramach praktyk w Europejskiej Fundacji Praw Człowieka, www.efhr.eu. Translated by Marta Dubiel the framework of a traineeship programme of the European Foundation of Human Rights, www.efhr.eu.