Together We Can Do a Lot More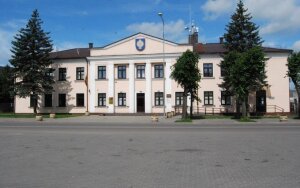 A local branch of Caritas was established in Eisiskes. On the 26th of November, in  the offices of the district authorities a founding meeting of the Eisiskes Caritas Branch took place. "If you want to help, you can help!" is the motto of the branch.
"We are pleased that so many of the residents of Eisiskes responded to our invitation. As one of the ladies present here said, we are about 20 big-hearted people gathered here ready to work. And this is already very important," said Lucyna Jundo, the main initiator of the project who also leads a Polish bookstore in Eisiskes. Lucyna Jundo is known for many more social actions organized in Eisiskes and Salcininkai region.
Guests who arrived from Salcininkai were talking about the activities of their branch and about the effects of their work. Rev. Tadeusz Matulaniec has proposed that the branch should use the Parish House. Everybody, one after another, shared their thoughts and ideas concerning the functioning of the newly-established branch.
"For many years now we are observing the work of the Salcininkai Caritas Branch. We can see how many things they managed to achieve. We thought that if we open one branch in our region, we will be able to do a lot more together," said Lucyna Jundo.
The founding meeting was attended by the representatives of the Salcininkai Caritas Branch led by Eugenia Mrozowa, the chairperson.
In the near future the newly-established Eisiskes Caritas Branch plans to organize a pre-Christmas charity campaign, A Heart For Christmas. There will be an announcement of a collection of toys and sweets that will go to the most needy families in the form of packages. Further plans of the Eisiskes Caritas Branch are to create a charity centre, a day-care room for children and a Daily Nursing Home for the Elderly and the Lonely.
The initiative group of the Eisiskes Caritas Branch consists of Lucyna and Ryszard Jundo, Lilija Wysocka, Jelena Jasińska and only recently 20 dedicated and ready to offer selfless help people. Caritas is an open organization and the organizers emphasize that everybody can become a volunteer. 

Source: http://pl.delfi.lt/aktualia/litwa/wspolnie-mozemy-zrobic-o-wiele-wiecej.d?id=60092089
Tłumaczenie Monika Rak w ramach praktyk w Europejskiej Fundacji Praw Człowieka, www.efhr.eu. Translated by Monika Rak the framework of a traineeship programme of the European Foundation of Human Rights, www.efhr.eu.