AWPL came down a peg or two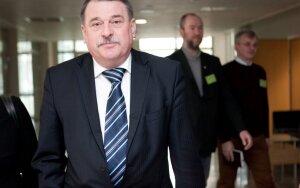 It seems that instead of having two portfolios, The Campaign of Poles inLithuania(AWPL) is ready to start a dialogue in terms of joining the present coalition.
"We may be interested in some new proposals. If it is an important department, we will definitely consider it.  We just need to talk about it."- Leonard Talmont, a negotiator from AWPL party, said in an interview for LRT.lt.
At the beginning of this week, The Executive Council of Polish Electoral Campaign in Lithuania decided, that they may join the governing coalition provided that they get the same rights as the party "Order and Justice" ("Tvarka ir Teisingumas").
Leonard Talmont, when asked by the LRT.lt if the AWPL party would be willing to make concessions and that way get only one portfolio, replied: "We need to get together and talk everything through. There may be some different offers that would be of our interests. If indeed that would be an important ministry, we will definitely consider it. However, as for now, there aren't any specific offers."
Polish Electoral Campaign inLithuaniavoiced their willingness to taking over the Ministry of Culture, which had already been assigned to the Labor party (Darbo partija), the other ministry would be one of the economic resorts. Algirdas Butkevičius, the leader of social democrats said that he can entrust only one ministry to Poles.
The leader of the AWPL party, Waldemar Tomaszewski, announced that the party is not afraid of cooperation neither it is willing to rule at any cost- the most important elements for them are the main guidelines.
In Talmont's opinion, in case of the AWPL party's participation in works of the ruling coalition, the priority for Poles then would be to create national program dealing with greater promotion of biofuels as well as rise in infrastructure's financing.
In response to the LRt.lt question of why the AWPL party, which has 8 mandates, wants to join the coalition on the same rules as the "Order and Justice" party, who in the election received 11 mandates, Leonard Talmont said: "It is that we're more credible. "Order and Justice" party is not a very reliable partner, there are many people who think in totally different terms. If a decision is made, we keep our side of the bargain, but that's a different story with that party. These things really matter."
Of kind of announcements Valentinas Mazuronis, vice-president of "Order and Justice" party, says as a indicator of deficiency in political experience, or even some kind of a joke. "I have not heard whether Talmont really said that, I can only confirm the fact that three of the members of Polish Electoral Campaign inLithuaniaare also working within our party. These are reliable people, maybe even in the same way as the party "Order and Justice". I can only say about positives, nothing more. If that kind of announcement did take place it may be an indication of deficiency in political experience or simply a joke- we can do nothing about it."
In the opinion of Valentinas Mazuronis, there is a need of an official meeting which would clarify further actions. "I think that things will clarify after the first meeting which will be 3+ for coalition partners and 1- for people from Polish Electoral Campaign inLithuania. After the meeting, future cooperation within the coalition should be clarified."- Valentinas Mazuronis said for LRT.lt.
Source:  http://pl.delfi.lt/aktualia/litwa/awpl-spuszcza-z-tonu.d?id=59945767
Tłumaczenie Emilia Borkowska w ramach praktyk w Europejskiej Fundacji Praw Człowieka, www.efhr.eu. Translated by Emilia Borkowska the framework of a traineeship programme of the European Foundation of Human Rights, www.efhr.eu.