The secret of Niemyćko's success revealed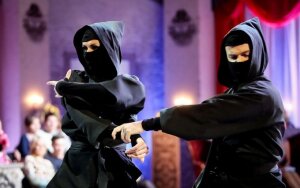 The main theme of the last episode of a dance show "Kviečių šokti" ("Let's dance"), in which Katarzyna Niemyćko is one of the participants, was jobs. The dancing pairs had really interesting ideas. On the dance floor we could admire astronauts, pianists, builders, chemists.
We should emphasize a very unique idea of Katarzyna Niemyćko and her partner, Dainius Dimša. Two ninja were dancing to the rhythm of pasodoble.
"The dance with masks looked quite strange. It was difficult to observe your emotions, but without doubt, 10." Aurelijus Liškauskas, a choreographer, commented on Niemyćko's dance.
No one is surprised by praises and high marks given to Katarzyna Niemyćko and her partner. They obtained 39 points form the jury as well as three additional points form the director and a special member of jury, Vytenis Pauliukaitis. All these points gave them the first place according to the jury.
According to the viewers' votes, Niemyćko took the second place but it did not stop her form taking  the first place in the general classification of the evening.
Jurga Anusauskienė and Andrius Greblikas had to say goodbye to the programme.
The viewers allowed the main rivals of Niemyćko, Kristina Navickaitė-Tina and Tadas Rimgail, to return to the programme.
Source:  http://pl.delfi.lt/rozrywka/ujawniono-sekret-powodzenia-niemycko.d?id=59908359
Tłumaczenie Karolina Rolka w ramach praktyk w Europejskiej Fundacji Praw Człowieka, www.efhr.eu. Translated by Karolina Rolka the framework of a traineeship programme of the European Foundation of Human Rights, www.efhr.eu.