Poczykowska is leaving the Ministry. There is only one "Polish" vice minister left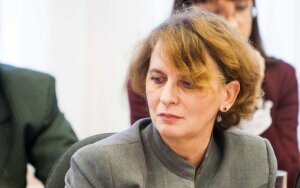 Vice minister, Leokadia Poczykowska, from the Electoral Action of Poles in Lithuania, has finished her work in the Ministry of Agriculture.
Her position is taken by Vilius Martusevičius, who has so far been working as an adviser of the minister of agriculture, Virginia Baltraitienė.
The candidacy of  Martusevičius was accepted last week by the presidium of the Labour Party. Despite the fact that the new vice minister comes from the Labour party, the position of the vice minister of agriculture is hold by an independent Saulius Cironka and Lina Kujalytė (from the socialdemocrats).
Leokadia Poczykowska, as well as other ministries, should have left her position, right after the resignation of the EAPL, which dropped the ruling coalition.
The last "Polish"vice minister of communication, Władysław Kondratowicz, still remains on his position.
Translated by Ewa Żakowska within the framework of a traineeship programme of the European Foundation of Human Rights, www.efhr.eu.