Propose your candidats to the "Polish Man of the Year 2014" title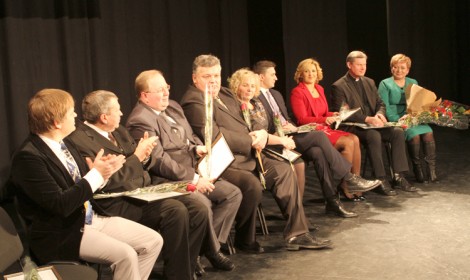 13 439 — this is the total number of the votes for the last year winner of the "Polish Man of the year" award – Maria Rekść, the mayor of the Vilnius region. Thus she was given the honorific title of "Polish Man of the Year 2013".
 The very fact that there are more and more votes given in the "Kurier Wileński" plebiscite – last year there were 28 212 of them, testifies that Polish society in Lithuania has become more active. "This honorific title is not only for me, it is for the whole body of the local government, as we all work for people to have better lives"- those are the words of the winner of the "Polish Man if the Year" award spoken at the qualifying round.
She emphasized many times that there are many people in the region of Vilnius who deserve this title so that their achievements were noticed and appreciated. This year it will be 17th edition of the plebiscite.
As the name "Polish Man of the Year" suggests, its aim it to mark the people who during the previous year accomplished something remarkable which would  leave a trace in the chronicle of Polish people in Lithuania. That is why we invite you to take in the competition, to propose your candidatures by sending by post the names of the people whose deeds and attitude towards matters important for us, Polish people living in Lithuania made them good candidates to the "Man of the Year" title (explaining why those people).
We should choose the people who had great impact on promoting and maintaining Polish nature in Lithuania, who contributed to spreading our good name among people of our society. The candidatures can be proposed by natural persons as  well as by social organizations or private companies. We are glad that our readers appreciate the work of people of different professions – including politicians, clergymen or simple workers.
After that the jury (Kapituła Plebiscytu) consisting of the people who had already won the "Polish Man of the Year" title will discuss each candidature and will present a list of 10 best candidats. The voting process will involve cutting out special counterfoils from the newspaper (copying not allowed) and sending them to our office. Counting of the votes will be performed by the jury. We invite you to take part. We are waiting for your proposals which should include justification and a short characteristic of the person proposed and her achievements from that year. The proposals of the candidats should be send to the following address:  "Kurier Wileński", Birbynių 4a, LT-02121 -30 Vilnius, Lietuva, with annotation: "Polak Roku 2014" till 31th October 2014 or by mail: reklama@kurierwilenski.lt
Translated by Gabriela Godek within the framework of a traineeship programme of the European Foundation of Human Rights, www.efhr.eu.