Leokadija Počikovska as the first of the "Polish" deputy ministers will return to work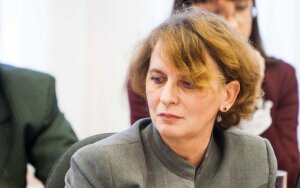 The new Minister of Agriculture Virginija Baltraitienė said that for now she is ready to admit to her team only the representative of the Electoral Action of Poles in Lithuania – Leokadija Počikovska, informs "Lietuvos žinios".
Baltraitienė does not hide the fact that out of three deputy ministers who have been working in the Ministry of Agriculture so far – Živilė Pinskuvienė from the Labour Party, the conservative Mindaugas Kuklierius and Leokadija Počikovska from AWPL – she is willing to accept only the last one.
"In reference to deputy ministers I plan the meeting with the Head of Service for Special Research. For now, I plan to admit only Počikovska and then we will see. The Social Democrats who have not been able to propose their man so far, now will have that opportunity. The next two men I will choose myself as a representative of the Labour Party," said Baltraitienė.
Translated by Anna Piecha within the framework of a traineeship programme of the European Foundation of Human Rights, www.efhr.eu.