Draft Legislation concerning national minorities is diminishing their rights!!! Jarosław Narkiewicz: Today is a day for mourning!!!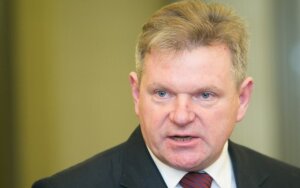 Vice Chairman of Seimas for the Electoral Campaign of Poles in Lithuania, Jarosław Narkiewicz declared that changes introduced to the Law on National Minorities were diminished, compared to present situation.
"It can be said that today is the day of national minorities' mourning as right wing has a negative approach, left wing agrees on everything and if this law is going to be adopted, the rights will not be rebuilt but they will be diminished", explained Narkiewicz to journalists.
Today, Seimas adopted Draft Legislation concerning national minorities but all references about bilingualism has been removed.
"They want to diminish national minorities' rights in education, to eradicate the possibility of learning in native tongue and leave only the possibility to learn native tongue. In Lithuania there are currently only 160 schools in which minorities can learn a language but those schools are also in danger of disappearance", said furious Vice Chairman of Seimas.
In spite of scratching bilingualism out of Law on National Minorities, the statement "the right to learn in a native language" has been changed to "the right to learn a native language".
The initiator of the proposal, blimp Valentinas Stundys said in defense that the statements were literally translated from the Framework Convention about defense of national minorities.
"This utterance is brought from the Framework Convention about the defense of national minorities whereas issues concerning education are regulated by the Education Act", explained himself Stundys.
Translated by Ewa Żakowska within the framework of a traineeship programme of the European Foundation of Human Rights, www.efhr.eu.