Waldemar Tomaszewski about Cytacka: The issue is settled. Everything will be all right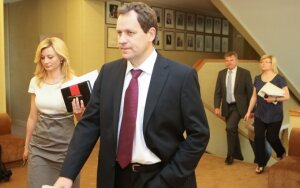 Waldermar Tomaszewski, the leader of the Electoral Action of Poles in Lithuania said that the issue of Renata Cytacka, the undersecretary of energy will be solved in a positive way, however he didn't  specify whether Cytacka will keep her post.
"As far as I know the issue is settled, everything will be all right. Settled in a positive way, a solution has been found. (…) I don't know the nuances, but a solution has been found, everything will be all right" said Tomaszewski from Strasbourg during a telephone conversation with BNS.
It was not possible to contact Cytacka nor Jarosław Niewierowicz, the secretary of energy, and the Department of Energy is also abstaining from any comments.
Till the end of the previous week all the departments "purified themselves", which means that all the undersecretaries but Cytacka handed in their resignations.
After the President Dalia Grybauskaitė's accusations concerning the suspicious activity of some undersecretaries, the coalition decided to let go of all its undersecretaries, and after the swearing-in of the President, the secretaries will form their staff anew.
Algirdas Butkevičius stated on Tuesday that eight secretaries, who will not be in the next government, were to be found on the "black list" of undersecretaries produced by the Special Investigation Service.
Translated by Alicja Dudzik within the framework of a traineeship programme of the European Foundation of Human Rights, www.efhr.eu.