Ministries have " come clear". Tamosiunaite, Trusewicz, Kondratowicz i Poczykowska have applied for dismissal. Cytacka as the only one left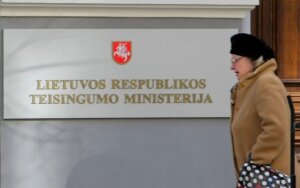 The number of vice-ministers who have applied for dismissal is still on the increase. Among them there are AWPL delegates vice-minister of  education Edita Tamosiunaite, vice-minister of culture Edward Trusewicz and vice-minister of agriculture Leokadia Poczykowska.
Yesterday, for dismissal applied the vice-ministers of education and science: Svetlana Kauzonienė and  Genoveita Krasauskienė from the Labour Party, Edita Tamošiūnaitė from the  AWPL branch , and  sociodemocrat Rimantas Vaitkus. Vice-ministers of culture: non-partisan Romas Jarockis, sociodemocrat Darius Mažintas įand Edward Trusewicz from the  AWPL branch.
At the beginning of the week, the  Ministries of Justice, Economy, Home Affairs, Social Care , and Work "came clean".
Today is the last day of work also for the ministers of Foreign Affairs: Neris Germanas, Rolandas Kriščiūnas, Andrius Krivas and Vytautas Leškevičius. Vice-ministers of Finance: Edmundas Žilevičius, Aloyzas Vitkauskas, Algimantas Rimkūnas, Vytautas Galvonas.
Vice-ministers of agriculture: Leokadia Poczykowska from the AWPL branch, Živilė Pinskuvienė ,and Mindaugas Kuklierius from Labour Party. Vice-ministers of health care: Gediminas Černiauskas, Jadvyga Zinkevičiūtė and Erikas Mačiūnas.
Translated by Katarzyna Piskorz within the framework of a traineeship programme of the European Foundation of Human Rights, www.efhr.eu.