The exhibition of Jolanta Śnieżko for the ending of a season of the Polish Artistic Gallery (Polska Galeria Artystyczna)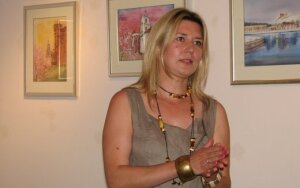 The exhibition of Jolanta Śnieżko ends the season of the Polish Artistic Gallery in Vilnius
It is the second part of the exhibition "Vilnius contexts and inspirations of tradition". Jolanta Śnieżko is painting the same, but in the same paintings you can always find something new. Delicate, smooth spirit that exudes from her works of art, such as our Old Town and the details that only Jolanta can notice. "Franciscans and the "Stop" sign, the Gate of Dawn and chestnuts" – the owner of the PGA (Polish Artistic Gallery), Wanda Mieczkowska started the vernissage.
"The exhibition was planned a long time ago, but it was created during one week. One year ago my works were more romantic, not they are more detailed. This is the same Vilnius in which I am in love" – said Jolanta Śnieżko.
Source: http://pl.delfi.lt/kultura/kultura/wystawa-jolanty-sniezko-na-zakonczenie-sezonu-polskiej-galerii-artystycznej.d?id=64897759
Tłumaczenie by Małgorzata Łabuda w ramach praktyk w Europejskiej Fundacji Praw Człowieka, www.efhr.eu. Translated by Małgorzata Łabuda within the framework of a traineeship programme of the European Foundation of Human Rights, www.efhr.eu.