Butkevičius: There is no need to change anything in spelling of names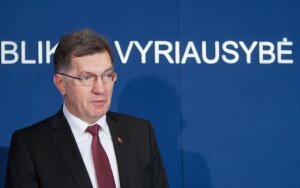 Prime Minister, Algirdas Butkevičius, said that there is no need to change anything in spelling of names.
 "The committee, which will present proposals, is currently working. The project of spelling of names was rejected during the past term. What is my opinion? In my opinion, there is nothing to be changed, the present method of spelling names is correct" – said the Prime Minister for the weekly "Veidas".
Currently, in the documents, non-Lithuanian letters can not be used in names spelling, but the local Polish community does not agree with that, justifying it with the fact that current method of names spelling creates problems for the citizens of Lithuania who enter into marriage with foreigners.
Butkevičius' Government promised in its program to "resolve issues of names spelling in the documents and the dual naming of streets".
During the last term of the Parliament, the current prime minister did not support the project on the original spelling of names, which was introduced by the then Prime Minister Andrius Kubilius. At that time Butkevičius abstained from voting.

Source: http://pl.delfi.lt/aktualia/litwa/butkevicius-w-pisowni-nazwisk-nie-trzeba-nic-zmieniac.d?id=60925659
Tłumaczenie Agnieszka Wiecheć w ramach praktyk w Europejskiej Fundacji Praw Człowieka, www.efhr.eu. Translated by Agnieszka Wiecheć within the framework of a traineeship programme of the European Foundation of Human Rights, www.efhr.eu.