Ripped off Polish street name plaque as a free pass to a nationalists' concert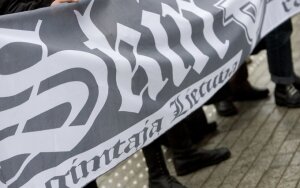 The march down Gediminas Avenue wasn't the only big event during March 11 celebration in Vilnius. That night, the concert "Tevynei '13" dedicated to the holiday of the Re-Establishement of the State of Lithuania took place in the music club "Propaganda" located in the former Trade Unions Palace. Shouts such as traditional "Lietuva lietuviams" ("Lituania for Lithuanians") or "blue pro-Polish power" ("Žydra prolenkiška valdžia") could be heard from the stage. A free entry to the club was promised to those with a Polish street name plaque, portal diena.lt reported.  
Four bands performed during a four hour long concert: "Židinys", "Luctus", "Diktatura" and "Skyforger" from Latvia.
Before the concert, the youth decorated with national symbols started to gather on Tauras Hill (or Góra Bouffałowa in Polish). They had the Lithuanian flag painted on their faces and pennants attached to their clothes.
There were not only plenty of skinheads in the audience but also older people with children.
The band "Židinys" who define their music as 'rock against cosmopolitanism', opened the concert.  They greeted everybody and started playing.
In their songs "Balti veidai" ("White faces"), "Karo priežastis" ("Reason of war"), the band mocks multiculturalism, political correctness, globalisation and other, according to them, failings of society. The song "Neapykanta" ("Hatred") was sarcastically dedicated to people who believe in stereotypes and compare nationalists' march to hatred.
The concert reached its climax in a performance of the band "Diktatura". Everyone together with the vocalist sung the songs of the band, and then later chanted "Lietuva lietuviams".
The leader of the band was encouraging people to chant louder so that the Mayor of Vilnius Art?ras Zuokas would hear them. He also called him a few unprintable words.
The radical mottos were also present during the event. Between performances, one of the organisers of the event came up on the stage and thanked the audience for not being scared of the police and the 'blue pro-Polish' authorities and for participation in the march.
Other organiser who was a representative of the motorcycle club "MC Vorai", joked that next year the patriotic concert will be free of charge for those who bring ripped off Polish street name plaque.
The organisers of the event emphasised that this year concert "Tevynei '13" has a special meaning, because the number 13 reminds about the XIII century when the Lithuanian people fought against the Teutonic invasion and Western culture.
The police was present during the whole event, no incidents were reported.

Source: http://pl.delfi.lt/aktualia/litwa/zerwana-tablica-z-polska-nazwa-ulicy-wolnym-wejsciem-na-koncert-narodowcow.d?id=60885211
Tłumaczenie Justyna Kaczmarek w ramach praktyk w Europejskiej Fundacji Praw Człowieka, www.efhr.eu. Translated by Justyna Kaczmarek within the framework of a traineeship programme of the European Foundation of Human Rights, www.efhr.eu.