"Duets of Stars": Niemyćko's First Place in Love Songs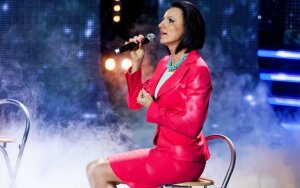 In the next episode of a song contest "Duets of Stars" ("Žvaigždžių duetai"), in which Katarzyna Niemyćko takes part, couples were singing the most beautiful love songs.
Jonas Jonušas together with "Pop Ladies" band performed "Aktorių trio" "Aš mylėjau tave tau nežinant" song. The jury praised "the duet" a lot.
"The emotions got my adrenaline going"—admitted an actress, Kristina Kazlauskaitė.
Laima Lapkauskaitė shared the same opinion: "There are the kind of performances when you find it really difficult to add anything. From the first second I've already known that I will score it ten points."
Maestro Donatas Katkus complimented them on their interpretation of the song and also gave ten points to the duet.
As a guest who sat on the jury appeared an etiquette expert Giedrius Drukteinis who emphasized that his "eyes rested watching international bands:  a Lithuanian girl, Liepa; a Russian girl, Oksana; and a Polish girl, Katarzyna."
After adding up the votes of the jury and viewers in two weeks' time a duet of Eugenijus Andrulis i Rasa Stoškuvienė has to leave the project.
Places attained after two weeks:
1. Jonas Jonušas and "Pop Ladies" band
2. Aistis Mickevičius and Neringa Šiaudikytė
3. Agneta Gabalytė and Rosita Čivilytė
4. Saulenė and Sandra Chlevickaitė
5. Agnė Buškevičiūtė and Justinas Lapatinskas
6. Tadas Rimgaila and Monika Linkytė
7. Lina Rastokaitė and Egidijus Sipavičius
8. Inga Norkutė-Žvinienė and Karolis Akulavičius
9. Eugenijus Andrulis and Rasa Stoškuvienė

Source: http://pl.delfi.lt/rozrywka/duety-gwiazd-pierwsze-miejsce-niemycko-w-piosenkach-milosnych.d?id=60872539
Tłumaczenie Hanna Hołub w ramach praktyk w Europejskiej Fundacji Praw Człowieka, www.efhr.eu. Translated by Hanna Hołub the framework of a traineeship programme of the European Foundation of Human Rights, www.efhr.eu.