Butkevičius: Law on National Minorities will not be extended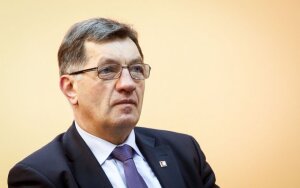 Prime Minister Algirdas Butkevičius announced that the government does not intend to extend the Law on National Minorities which allowed bilingual information signs.
The extension of this Law had been proposed by the foreman of the Electoral Action of Poles in Lithuania fraction, Rita Tamašunienė.
"So far, we do not plan to take any steps in that direction," said the Prime Minister.
"We are currently preparing comprehensive proposals concerning national minorities. First, they have to be heard by the government, and then discussed by the Strategic Committee.  Based on the proposals, we will draft a project and submit it to the Seimas. I believe we will be ready before July 1st 2013," explained Butkevičius.
Rita Tamašunienė MP submitted a bill according to which the validity of the Law adopted in 1991 by the Supreme Council of the Lithuanian Republic would be extended.
The Law on National Minorities was valid from 1991 to 2010. Under the Law, information signs located on the territories populated by national minorities could be bilingual.
The reason for Tamašunienė's proposal was that national minorities constitute approximately 16% of Lithuania's population.
"With such a large quantity of minority residents it is essential that there exists a law which would defend their rights," explained the MP in her explanatory note.
According to the 2011 census, as many as 154 different nationalities existed in Lithuania, which constituted 16% of its whole population. Poles are the majority (approximately 6.6%), followed by Russians (5.8%) and Belarusians (1.2%).

Source: http://pl.delfi.lt/aktualia/litwa/butkevicius-ustawa-o-mniejszosciach-narodowych-nie-zostanie-przedluzona.d?id=60834103
Tłumaczenie Aleksandra Christ w ramach praktyk w Europejskiej Fundacji Praw Człowieka, www.efhr.eu. Translated by Aleksandra Christ the framework of a traineeship programme of the European Foundation of Human Rights, www.efhr.eu.