Leonard Talmont appointed for the Chairman of the Human Rights Committee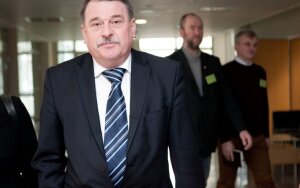 The Human Rights Committee of the Seimas has selected Leonard Talmont for a new Chairman. 
Mantasa Adomėnasa, the conservative candidate for the Deputy Chairman was rejected, since only two members voted for his candidacy. Other members abstained from voting.
One of the committee members, Ona Valiukevičiūtė of the Order and Justice party ("Tvarka ir teisingumas") claims that "there are more suitable candidates for this post, such as Dalia Kuodytė, a liberal representative of the opposition."
According to the politician, somebody who called the constitutional court 'junta' cannot be a member of the Human Rights Committee.
Whereas Adomėnas believes his own understanding of the human rights differs from the one expressed by Valiukevičiūtė and Kuodytė.

Source: http://pl.delfi.lt/aktualia/litwa/leonard-talmont-przewodniczacym-komitetu-praw-czlowieka.d?id=60099691
Tłumaczenie Karolina Jasińska w ramach praktyk w Europejskiej Fundacji Praw Człowieka, www.efhr.eu. Translated by Karolina Jasińska the framework of a traineeship programme of the European Foundation of Human Rights, www.efhr.eu.