Klaipėda as the most economically free. The Vilnius Region without a debt.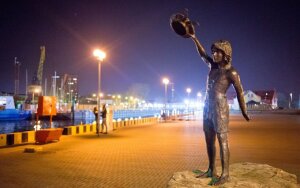 For the second time Klaipėda was designated the most economically free local government in Lithuania. The Vilnius Region is one of the few without any debt.
Lithuanian Free Market Institute (LFMI) released a ranking that assesses the economical freedom of local governments. Klaipėda remains the ranking leader and was awarded 69,4 out of 100 maximum points. Last year the region scored 59,1 points.
Klaipėda is the most investment-friendly. It received 100 points for the investment and prospects for development. Klaipėda is also way ahead in terms of the tax policy (40,9 pts). According to the Lithuanian Free Market Institute, municipal services of Klaipėda seem highly efficient. Additionally, the management in the local government was positively evaluated. The administrative staff in the local government is not very extensive. Therefore, in Klaipėda operates the so called "one window only" rule.
The Vilnius authorities took second place in the ranking with a score amounting to 63,9 points. Vilnius was dubbed the most citizen-friendly city in Lithuania (78,2 pts). First place in the category of national education and social welfare went to the capital city. Vilnius was ranked third when it comes to the efficiency of the municipal services.
Problems of taxes, budget and health care plague the city of Vilnius. Too high taxes were imposed; an enormous debt was incurred and few private health care facilities were established. Kaunas needs to face similar problems.
Žilvinas Šilėnas, a spokesman of the LFMI, says: "We are the ones who create the knottiest problems. We are beset with the internal hindrances, such as the length of waiting time before obtaining a building permit; and the time needed to collect indispensible documents. We hope that our ranking would provide an aid for local governments in identifying their internal problems."
Vytautas Žukauskas, an expert in the LFMI, stressed that an average waiting time for a GP appointment was reduced in the last year. However, only four local governments have partially repaid their debts. In general, unemployment remains high. The number of people receiving benefits has also increased.
60 local governments operate in Lithuania. Only the Vilnius and Visaginas Regions have not slipped into debts.
In ranking of regional governments, Kretinga took first place (68,9 pts). Second place was won by the Kauno rajono savivaldybė, followed by the Klaipėdos rajono savivaldybė and Kėdainių rajono savivaldybė.
The worst investment conditions are in Ukmergė, Neringa and the Šalčininkai Region. High taxes and red tape pose chief obstacles to investments in these governments.
Source: http://pl.delfi.lt/biznes/biznes/klajpeda-najbardziej-wolnosciowa-rejon-wilenski-bez-dlugow.d?id=60103137
Tłumaczenie Karolina Jasińska w ramach praktyk w Europejskiej Fundacji Praw Człowieka, www.efhr.eu. Translated by Karolina Jasińska the framework of a traineeship programme of the European Foundation of Human Rights, www.efhr.eu.