Another Protest Against the Reorganization of Polish Schools in the Trakai Region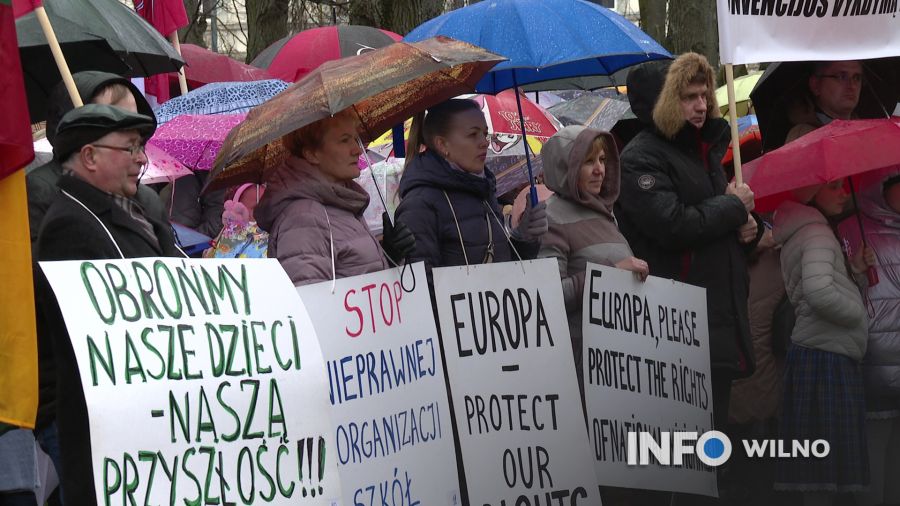 It has been almost three weeks since the controversial decision of the councilors of the Trakai Self-Government regarding two Polish facilities. The school community disagrees with the reorganization, announces taking legal action, and continues to protest.
Parents of the students of the Andrzej Stelmachowski Elementary School in Senieji Trakai and the Longin Komolowski Middle School in Polukhin, as they announced, are not giving up. They strongly disagree with the decision of the Trakai Self-Government Council on the reorganization of these facilities.
Therefore, for the seventh time, a protest was held, this time at the Ministry of Foreign Affairs of Lithuania. Approximately 200 people took part in the rally. Moreover, the parents' committees of both schools submitted a resolution to the Lithuanian Ministry of Foreign Affairs with the demands of the school communities.
Schools are waiting for the next meeting of Trakai councilors.
Parents, students, and teachers expect the Polish authorities to persuade Lithuanian officials to suspend the reorganization of those two institutions.
Support for the reorganization of the schools has already been expressed by "Macierz Szkolna", "Republika Polonia", Intergroup for Traditional National and Linguistic Minorities in the European Parliament, and 43 members of the Lithuanian parliament.
Today's action is not the last, as another rally in defense of Polish schools in the Trakai region will take place on Saturday, April 23, at the Lithuanian Embassy in Warsaw.
Translated by Marta Graban within the framework of a traineeship programme of the European Foundation of Human Rights, www.efhr.eu.