The eagle in Paneriai regained the crown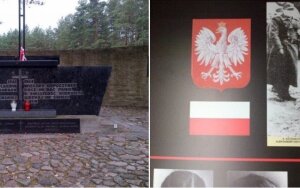 Today on the board of the exhibition at the Museum of Remembrance in Paneriai weput the correct pattern of the emblem of Polish Republic, the Embassy in Vilnius announced today.
"Once again we would like to thank our Facebook fans for vigilance and a museum for its kind cooperation in the introduction of a proper image of the emblem of a free and democratic Poland. As usual during our stay at this holy place we lit candles at the cross commemorating the chastisement of Poles of Vilnius. Remember about Paneriai!" –  said the Embassy in Vilnius in the statement published on their social networking page.
Translated by Patrycja Pawłowska within the framework of a traineeship programme of the European Foundation of Human Rights, www.efhr.eu.