Museum Wladyslaw Syrokomli in Boykivshchina hosted youth from Vilnius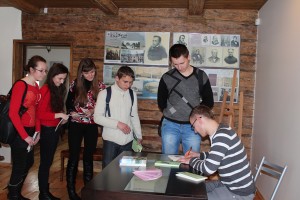 April 12 manor Museum Wladyslaw Syrokomli in podwileńskiej Borejkowszczyźnie invited poetry lovers and sightseeing.
This afternoon, listeners, and viewers were students of the Vilnius School of technology, business and agriculture in Białej Wace, as well as the class X students from the neighbouring Borejkowszczyzną school in Rukojniach. Museum visitor was Tomas Tamošiūnas, who shared their thoughts about poetry. Read also his lines from the book "into the land of Mute" and fresh, not yet printed.
In turn, the students of the Vilnius School of Technology, business, and Agriculture within the framework of the practical sessions had a chance to familiarize themselves with the legacy of architectural and cultural-literary Wyżyny Oszmiańskiej. Miedniki, Rukojnie, Niemież, Kiena, Shumsk were passwords bids to talk about the people who lived here, who have created, contributed to the intellectual heritage of Lithuania and Europe. Participants in the afternoon received a gift of poems "to the land of Mute" and book doctor of humane Joseph Szostakowskiego "traces of memory". The Publisher of this item is The Council and the Museum of the Vilnius educational Władysław Syrokomla St. The book contains 25 people prominent personalities who at various times lived in Vilnius area and leave a memorable trace in the culture and history of Vilnija.
Borejkowszczyzna village is located on the south-east of Vilnius region, about 14 km from Vilnius. From one and a half years working here Wladyslaw Museum Syrokomli and Tourist Information Centre is attracting more and more visitors. Last year it was visited by over 2,500 guests. Get acquainted with the activities of the Museum are both students from the Vilnius, Vilnius and around the country, as well as tourists from abroad. In 2012, visited Borejkowszczyznę Poles, Belarusians, Russians and even Americans.
Managers and staff in addition to the museum exhibition organized for visitors to many projects exhibitions, poetry readings, concerts, etc. Much is going on here lately, as institution, together with the Museum of Oszmian (Belarus) takes part in the international project called "The two countries – one culture and history." Under the project, both the Lithuanian and Belarusian hosts many great events, including in May Borejkowszczyźnie will work camp of young poets, which will be attended by young people from the region of Vilnius and Ashmyan. The museum opened with new exhibitions: on the life and army minstrel Rukojń ethnographic exhibition area. The project is planned to release in several languages, a travel guide to upland Oszmiański, maps and directory of artisans border.

Source: http://kurierwilenski.lt/2013/04/19/muzeum-wladyslawa-syrokomli-w-borejkowszczyznie-goscilo-mlodziez-z-wilenszczyzny/
Tłumaczenie Katarzyna Dąbrowska w ramach praktyk w Europejskiej Fundacji Praw Człowieka, www.efhr.eu. Translated by Katarzyna Dąbrowska within the framework of a traineeship programme of the European Foundation of Human Rights, www.efhr.eu.