Moro: In Vilnius I was Polish, in Warsaw I am a citizen of Vilnius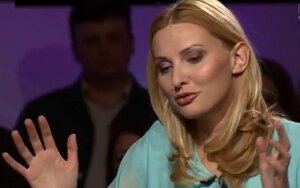 Famous actress and Polish from Vilnius, Joanna Moro, appeared on a popular TV show in the Polish television "Tomasz Lis na Żywo" ("Tomasz Lis Live"). The conversation between the actress and famous journalist concerned "Anna German", TV series which is enjoying record popularity at present.
In Poland, over 6 million people watched the TV series with Joanna Moro playing the main part. The actress said that she does not feel as being under pressure from fans. "For the present I am simply myself" – Joanna Moro stressed.
The actress said that she wanted the series to be aired in Poland very much. "I had been struggling to make this series broadcast in Poland, because while making this series I wasn't certain that the Polish Television would buy it. (…)  I wanted the Poles to find out who did they have, since Anna German was telling that she was Polish" – Moro said.
Joanna Moro was born in Lithuania, but she has been living in Warsaw for many years. "For 18 years when I lived in Lithuania, I was telling that I'm Polish. Now when I live in Warsaw I tell that I'm from Vilnius. Because it is something different" – the actress explained. "Frankly speaking, I had to receive extra training, because of the fact that in Vilnius I grew up in very Polish community and Russian was not the language I was using every day" – Joanna Moro added.
Anna German was born in 1936 in Uzbekistan. In 1946 she came to Poland with her mother. Anna German was a geologist by education, but a singer by avocation. Owing to her mother, she spoke seven languages and she sang her songs in all of them. She made her debut as a singer in 1960. For her greatest hits "Tak mi z tym źle" and "Tańczące Eurydyki" she was awarded in song contests in Sopot and Opole.
Joanna Moro, a Polish actress, a graduate of State Theatre Academy in Warsaw. She played in productions like "Na Wspólnej", "Londyńczycy" , "Kopciuszek" and "Faceci do wzięcia".

Source: http://pl.delfi.lt/kultura/kultura/moro-w-wilnie-bylam-polka-w-warszawie-jestem-wilnianka.d?id=61114757
Tłumaczenie Barbara Rożek w ramach praktyk w Europejskiej Fundacji Praw Człowieka, www.efhr.eu. Translated by Barbara Rożek within the framework of a traineeship programme of the European Foundation of Human Rights, www.efhr.eu.