Lawyers: banning abortions will infringe on women's rights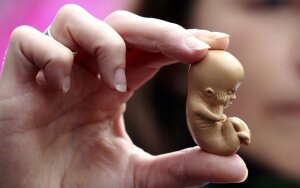 Lawyers working for the Seimas announced that the legislation about the protection of the fetus registered by Electoral Action of Poles in Lithuania may not be compatible with international conventions.
Lawyers emphasised that the Convention for the Protection of Human Rights and Fundamental Freedoms protects every human's right to live, but doesn't mention anything about the rights of the fetuses.
In the meantime, women's right to choose (whether to abort the pregnancy or not) is defined in articles 3 and 7 of the Charter of Fundamental Rights of the European Union. These articles say that every person has a right to physical and mental integrity as well as to privacy, protection of personal data and expression.
Taking under consideration the practices of applying the articles of the Convention for the Protection of Human Rights and Fundamental Freedoms, regulations authorized in Lithuanian acts of law, the lawyers have drawn a conlusion that unconditional protection of fetus life can't be a suffictient or necessary condition to infringe on women's right to private life.
At the beginning of spring spession of the Seimas, members of Parliament from Electoral Action of Poles in Lithuania, Kestutis Daukeys from Labor Party (Darbo partija) and Algirdas Patackas from 'Road of the Brave' ("Drąsos kelias") registered a proposal of legislation protecting the life of the fetus.
The proposal assumes that the pregnancy could be aborted up to 12 weeks, but only if the woman is the victim of rape. Currently in Lithuania the abortions are permitted up until 12 weeks without any questions. Every year approximately 10 000 women decide to have an abortion in Lithuania.
The draft law is practically a copy of Polish anti-abortion law. It has already been proposed in 2005 by Electoral Action of Poles in Lithuania, and in December 2007 it was approved after the first reading but in the end it was rejected. If Lithuania adopted a law about the right of fetuses, it would be a fourth country after Poland, Ireland and Malta that banned abortion.  

Source: http://pl.delfi.lt/aktualia/litwa/prawnicy-zakaz-aborcji-ograniczy-prawa-kobiet.d?id=60987541
Tłumaczenie Justyna Kaczmarek w ramach praktyk w Europejskiej Fundacji Praw Człowieka, www.efhr.eu. Translated by Justyna Kaczmarek within the framework of a traineeship programme of the European Foundation of Human Rights, www.efhr.eu.