"Pulaki z Wilni" handed their gifts over to the Soleczniki (Šalčininkai) Children's Home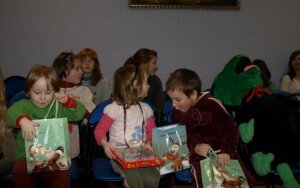 A day before Epiphany the charitable action "…bo z nami jest wesoło" ("together we are joyful"), organized by the fandom of Facebook page "Pulaki z Wilni" ("Poles from Vilnius"), came to an end. Last Saturday all presents bought for the money collected during the action, as well as other material gifts, were handed over to the Soleczniki (Šalčininkai) Children's Home.
"Our kids are always happy when someone pays a visit. Having contact with other people is very important to them. It is much more valuable than any material gift," says Oksana Obłoczyńska, the head of the institution. Currently the Soleczniki (Šalčininkai) Children's Home houses 38 foster children. Only 17 of them showed up at the meeting, as the rest went to their birth families for holidays.
The organizers of the action bought household detergents, cosmetics, and school equipment. They also collected clothes and toys. Plus, their entrepreneur friends from Gariunai donated about 50 pairs of shoes.
"We spent the collected money according to the list prepared together with Madame Oksana," as Ewelina Mokrzecka, the initiator and one of the coordinators of the action, says to  PL.DELFI.
After distributing the gifts the guests became acquainted with the conditions of the Children's Home. It was immediately visible that the management of the institution, together with local councilors and sponsors, had been taking good care of the place. The foster children have spacious rooms, each of which is equipped with nice pieces of furniture and a television set with cable TV transmission.
Mokrzecka does not rule out organizing another action of this sort in the future. "We will see, maybe next year we will try to support elderly people, as rest homes for seniors have similar, or even worse financial problems. They hardly ever interest any sponsors," as she mentions.
The charitable action "… bo z nami jest wesoło" ("together we are joyful") took place in Vilnius on December 15th 2012. It included a charity concert of two young bands from Vilnius, Kite Art and Will'N'ska, and a presentation of Jan Rożanowski's chapbook of poetry. The action resulted in collecting 1280 LTL.

Source: http://pl.delfi.lt/kultura/kultura/pulaki-z-wilni-przekazali-dary-dla-domu-dziecka-w-solecznikach.d?id=60368917
Tłumaczenie Natalia Błędowska w ramach praktyk w Europejskiej Fundacji Praw Człowieka, www.efhr.eu. Translated by Natalia Błędowska the framework of a traineeship programme of the European Foundation of Human Rights, www.efhr.eu.