The celebration of 100th anniversary of Theatre on Pohulanka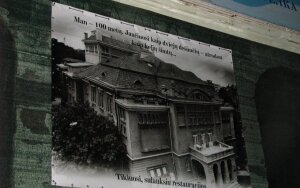 On January 4, there will be the celebration of 100th anniversary of Theatre on Pohulanka, in which Polish theatres from Lithuania can present their latest arts. The patron is Member of Parliament and the director of the Electoral Action of Poles in Lithuania – Waldemar Tomaszewski.
Tomorrow (January 4) at 5.30 pm Polish Theatre Studio is going to present the art of Ireneusz Iredyński "Kreacja" directed by Lilia Kiejzik, and at 7.30 pm The Polish Theatre in Vilnius will show the art of Inka Dowlasz "Pułapki miłosne".
"It is so sad that the theatre does not have enough money to renovation which is really needed. When I saw a paper on a door: " I am 100 years old, I feel like I am 20 and look like I am 200…" I started crying" – said PL DELFI Lilia Kiejzik, the director and the manager of Polish Theatre Studio in Vilnius.
Theatre on Pohulanka was built in 1912-1912 on the initiative of Hipolit Korwin-Milewski, designed by Aleksander Parczewski and Wacław Michniewicz with the contribution of Polish community of Vilnius. The building was given to the City Council provided that there would be only the shows of Polish theatres.
The theatre during the tsarist conquest was one of the most important centers of cultural and artistic destiny. Later, in the period of 1925 to 1929, Theatre Reduta worked here – the team of Juliusz Osterwa. In subsequent years, there were the shows of elite Polish artists, particularly the most arts were during the occupation
On this stage there were well-known actors such as: Irena Eichlerówna, Nina Andrycz, Henryk Borowski, Hanka Ordonówna, Aleksander Zelwerowicz, Zygmunt Bończa-Tomaszewski, Zdzisław Mrożewski, Danuta Szaflarska, Jerzy Duszyński, Igor Przegrodzki, Hanka Bielicka.
On June 23, 1940 the theatre was closed. After the II World War, contrary to the intention of benefactors of giving the Theatre for Polish people, the building was given to the Lithuanian National Opera and Ballet Theatre, later there was Youth Theatre, and now there is home to Lithuanian Russian Drama Theatre.
Source: http://pl.delfi.lt/kultura/kultura/obchody-100-rocznicy-teatru-na-pohulance.d?id=60350809#ixzz2HNbEHLus
Tłumaczenie Diana Omiljaniuk w ramach praktyk w Europejskiej Fundacji Praw Człowieka, www.efhr.eu. Translated by Diana Omiljaniuk the framework of a traineeship programme of the European Foundation of Human Rights, www.efhr.eu.