Zbigniew Balcewicz: Polish schools maze – missed opportunity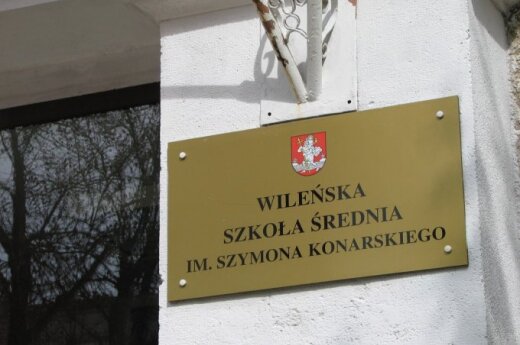 Tensions are rising with the reorganisation of Polish schools in Vilnius. The Academic year comes to an end and, according to local Polish politicians, ten Polish schools are threatened with Educational reform in Lithuania. The schools are: four vilnian schools, Wł. Syrokomla High school, Sz. Konarski High school, J. Lelewel High school and Lazdynai high school, three schools from other Vilnius regions, High school in Zujunai, Św Jan Bosko High school in Jalowka, Sw. Kazimierz High scool in Medininkai, two schools from Šalčininkai region, Adam Mickiewicz High school in Dieveniškės, Eliza Orzeszkowa High school in Baltoji Vokė, and one High school from Paluknio in Trakai region.
According to legislation, ten years long reorganisation of Lithuanian and Polish schools will end this year before September 1st.
Missed opportunity?
In line with reform assumptions, after 1st September 2015, High schools will be terminated. According to appointed in 2004 "school network transforming recommendations" the majority of facilities has already been transformed into school-kindergartens, infant schools (1-4 class), lower secondary schools (1-8 class), primary schools (1-10 class) and secondary schools (9-12 class). According to 2011 amendment about education, the so-called lower secondary schools can work in cities with one such school, therefore they can exist only on the outskirts of town as well as the schools with specialist curriculum programs. The law grants permission to two schools (secondary school and lower secondary school) in one facility. To acquire gymnasium status or the right to specialist curriculum in intant, primary and high education in chosen profile, the school facility should acquire so-called "blessing" which is accreditation of Ministry of Education and agreement of local self-government which the school belongs to.
If the rules of the game are known for a long time this begs a question: Why there are so many unresolved issues concerning reorgnanisation of minority schools in Šalčininkai and Vilnius regions ruled by EAPL which protect their interests? Also why Polish schools in Vilnius region haven't been reorganised earlier when the supporter of Polish education not only had the power but also was in ruling coalition having posted by EAPL deputy Minister of Education and Science, E. Tamošiūnaitė?
You can't have it both ways
When it comes to the capital, it seems that both politicians, posted workers to self-goverment by Polish party and the principals of education facilities simply were not eager for reorganisation of schools. It wasn't until last year in February that Vilnius City Council approved the "vilnius school network reorganisation plan of 2014-2015".
This document included two alternative variants for reorganisation of J.Lelewel High school. First variant is the transformation of school into gymnasium undertaking a curriculum based on specialist education – infant, primary, and high education including hard and natural sciences. Second variant (in case of rejected accreditation motion) is transforming the facility into primary school. Two identical variants are provider for Sz. Konarski and Lazdynai High schools. Transformation of both into gymnasium undertaking a curriculum based on specialist education – infant, primary, and high education including artistic profile or transformation into primary schools.
Wł. Syrokomla High school has three reorganisation strategies. First is the transformation of school into gymnasium undertaking a curriculum based on specialist education – infant, primary, and high education on the basis of the Christian values. The second trategy is to divide into two institutions – high school and lower secondary school and to transform the school into secondary school after getting an accreditation. And finally, the third (in case of rejected accreditation motion) is transforming the facility into primary school.
At the end of March, Zbigniew Maciejewski who was a chairman of Culture, Education and Sport Committee, declared to one of internet websites that "the decision of City Council about allowing Polish schools in Vilnius to get accreditation was made in December 2014. At the time, the councillors agreed to ask for accreditation to Lelewel High school, Wł. Syrokomla High school, Sz.Konarski High school and Lazdynai High school. The Ministry of Education and Science will tell if the given school complies with the standards required by the department. If the school is ready, then the Council will give the go-ahead reminding that the current Council, which was always in favour of keeping the network of Polish schools, have only two meetings left.
Decisions while leaving
On April 1st, during the meeting before last, the Capital city Council made a number of resolutions on the previous term of office. One of them was about not completing 11th classes in Sz. Konarski high school and high school in Lazdynai and at the same time transforming them into primary schools, which is according to the second variant of reorganisation approved on February last year.
According to Aidas Aldakauskas ,the Ministry of Education and Science official, who was responsible for school accreditations, "the future of these schools was already known, but only few people knew about this and nobody tried to explain anything to school societies still hoping for accreditation and keepingthe High school status." This begs the question: Did Z. Maciejewski with EAPL councillors, deputy of Capital Council D.Narbut and finally, Polish MPs in Lithuania ever knew about this?
On 1st April, which means while leaving, the Capital City Council made crucial decisions about Wł. Syrokomla High School, including the change of legal identity and transforming the facility into public institution (viešoji įstaiga), which was founded and owned by Vilnius self-government. According to contituent act of public institution, Wł. Syrokomla Vilnian School "should be aimed at the attainment of the objectives of High school programme based on Christian values, which is provided by Regulation of Minister of Education and Science nr. V-1599 from 16th November 2012. The self-government is obliged to fund the institution by the same rules as the school. The approved statute of public institution of Wł. Syrokomla Vilnius School "barely differs from the current School regulations".
The documents that were accepted by the Council and that weren't signed by the current Mayor A.Zuokas for a long time (justified by absence) were delivered to Center of registers and Ministry of Education and Science at the very last moment.
Neither Councillors passing the documents, nor the present in Council meeting, nor Vilnius Region self-government representatives, nor notary, nor Center of registers official didn't have any concerns about the congruence of resolutions with the law.
However, after delivering the documents about the school to education department and without waiting for the actual reply of the Ministry, the "Syrokomlówka" society (probably initiated by some politicians) have organised the so-called "peaceful demonstration" (probably the day after, on April 13th) in front of Ministry building. They have asked a Minister of Education and Science, Dainius Pavalkis for immediate accreditation of Wł. Syrokomla School as secondary school based on Christian values.
After sending a petition to Ministry, deputy Minister of Education and Science, Genovaitė Krasauskienė said to school representatives that the institution should look for another participant of public institution for example Kuria Wileńska because self-government, as a secular institution, cannot be one and only initiator as the Lithuanian schools are secular.
Soon after the demonstration, Minister Pavalkis was threatened with dismissal and before resignation he dismissed the deputy Minister, G.Krasauskienė (probably for idleness), who was responsible for school reorganisations. On May 8th, he also signed the petition reply stating that "the school is possibly against the idea of secular school, accepted in constitution". Actually, one can say that the minister Pavalkis was forced himself to relinquish for sluggish implementation of Labour Party and Government programme.
Anyway, the Education and Science department was without minister for a long time and still has no deputy minister for position of dissmised Krasauskienė (also being an accreditation supervisory body).
The duties of Minister od Education and Science were performed for some time by Minister of Justice, Juozas Bernatonis who visited few Lithuanian schools in Vilnius promising them a quick accreditation. Why didn't he become interested also in the problems of "Syrokomlówka" or other Polish schools then? Did some of Polish politicians or education officials ever talk to him? No one has ever head a thing.
We must think that the newly appointed minister of Education and Science, Audronė Pitrėnienė, as a chairwoman of Parliamentary Committee for Education, Science and Culture, should be familiar with the problems of Polish schools in Vilnius Region. Nevertheless, the Polish MPs as well as the school societies will have to inform her and other Committee members about them.
The views expressed by the author may not represent the views of Delfi.lt
Translated by Adam Adamowicz within the framework of a traineeship programme of the European Foundation of Human Rights, www.efhr.eu.