Šarūnas Birutis: Law on national minorities depends on participation of AWPL in the government coalition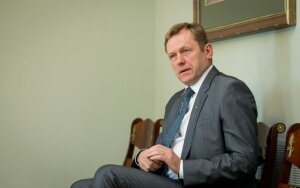 The Lithuanian Minister of Culture Šarūnas Birutis believes that the future of the Law on national minorities is connected with the discussion about the government coalition with or without the Electoral Action of Poles in Lithuania (AWPL).
"We have to wait until the government coalition will be formed. Then we will know if Poles will participate in it.  They are one of those with whom a compromise is difficult to be reached. After the sitting of the Political Council we will decide if we seek a compromise or not. For now it is an essential question" – said Birutis.
The Minister emphasized that it was not known if the project the Deputy Minister of Culture Edward Trusewicz has been working on, would be granted or refused. He added that the project would be unnecessary if the Seimas accepts amendments proposed in Spring.
The working party of the Ministry of Culture under the leadership of the Deputy Minister Edward Trusiewicz in their project are going to allow use of the language of a national minority in a territorial entity if 25 percent of its inhabitants are persons belonging to a national minority.
Currently more than 25 percent inhabitants are Poles in the Vilnius District Municipality, the Šalčininkai District Municipality, the Švenčionys District Municipality and in the Trakai District Municipality. More than 25 percent of the Visaginas Municipality inhabitants are Russians.
"Such Law is needed, but together with the National Communities Council we have decided that it could not be in conflict with the Constitution and other Laws on using language in public space – this seems to be the heart of the problem. (…) We did not achieve an agreement, because Trusewicz does not give up on his demands, therefore our efforts are going nowhere" – said the Deputy Chancellor of Lithuania Remigijus Motuzas who was designated as the Leader of the new working party responsible for the Law on national minorities. In June the Deputy Chancellor has informed that the new working party has not organized a single sitting.
"We will try to meet in the foreseeable future, but there are no final decisions. For now we know only that we cannot propose a law which would be in conflict with the Constitution and other laws. We will try to seek a compromise" – said Motuzas in June.
According to him the work on the Law was slowed down because of the presidential election and the European Parliament election.
"We have done nothing, because, to be honest, all political parties have agreed that we will remain idle until the elections" – explained the Deputy Minister.
Translated by Maciej Jóźwiak within the framework of a traineeship programme of the European Foundation of Human Rights, www.efhr.eu.